---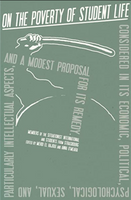 by The Situationist International, Mustapha Khayati, and Guy Debord, translated by Donald Nicholson-Smith, edited by Medhi El Hajoui and Anna O'Meara
Common Notions
05/24/2022, paperback
SKU: 9781942173571
When the Situationist International was a little known revolutionary art group, before Guy Debord's philosophical masterpiece Society of the Spectacle was published, and before Paris' universities were occupied in May '68, a pamphlet succinctly titled On the Poverty of Student Life: Considered in Its Economic, Political, Psychological, Sexual, and Especially Intellectual Aspects, With a Modest Proposal for Doing Away With It created a scandal that would turn into a global revolt.
On the Poverty of Student Life was a match that recognized and described student and youth alienation, and the way it was printed and distributed spread that fire. For the first edition supporters of the SI appropriated school funds to make and distribute 10,000 copies. From there, dozens of editions were printed by worker-and student-run printing presses around the world, from Tunis to East London, from Tokyo to Detroit. This new edition highlights this global underground circulation and brings attention to the common conditions of students, workers, and anti-imperialist resistance in the world of the sixties -- bringing that historic reckoning to the present.
Featuring a new translation by former SI member and celebrated translator Donald Nicholson-Smith, an interview with author Mustapha Khayati where he traces his map from colonial Algeria to imperial France to the university and the streets, and essays about the political relevance of the manifesto (then and now) -- an edition like this has never before existed. With beautiful photographs of 79 different editions this book provides a cartography of an uprising.
About the contributors:
The Situationist International was an international organization of social revolutionaries made up of avant-garde artists, intellectuals, and political theorists. It was prominent in Europe from its formation in 1957 to its dissolution in 1972.
Mustapha Khayati was a member of the Situationist International between 1966 and 1969. Though On the Poverty of Student Life was a collective endeavor, Mustapha Khayati is one who put pen to paper and was the pamphlet's primary author.
Guy Debord was a French Marxist theorist, philosopher, filmmaker, member of the Letterist International, and founding member of the Situationist International. He is the author of The Society of the Spectacle and Comments on the Society of the Spectacle.
Donald Nicholson-Smith was a member of the Situationist International between 1965 and 1967. He has translated a number of their texts (and much more) into English.
Mehdi El Hajoui has been researching and collecting the Situationist International for over a decade. Items from his archive have been exhibited at Princeton University, Indiana University, the Chicago Architecture Biennial, the Musée d'Art Moderne et Contemporain of Geneva, and the Haus der Kulturen der Welt in Berlin, among others. He frequently writes and lectures, and as a board member of Booklyn and ProArts Commons, supports marginalized artists working at the intersection of art and social change.

Anna O'Meara's research investigates Middle Eastern art and activism between the late 1960's and early 1970's, particularly the work of Mustapha Khayati. Her translations have been published by Three Rooms Press, Annex Press, BauerVerlag, and Verso (forthcoming).