---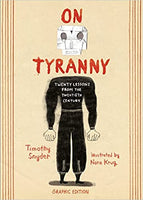 by Timothy Snyder, Illustrated by Nora Krug
Ten Speed Press
10/5/2021, paperback
SKU: 9781984859150
NEW YORK TIMES BESTSELLER - A graphic edition of historian Timothy Snyder's lessons for surviving and resisting America's arc toward authoritarianism, featuring the visual storytelling talents of renowned illustrator Nora Krug
"Nora Krug has visualized and rendered some of the most valuable lessons of the twentieth century, which will serve all citizens as we shape the future."--Shepard Fairey, artist and activist
Timothy Snyder's New York Times bestseller On Tyranny uses the darkest moments in twentieth-century history, from Nazism to Communism, to teach twenty lessons on resisting modern-day authoritarianism. Among the twenty include a warning to be aware of how symbols used today could affect tomorrow ("4: Take responsibility for the face of the world"), an urgent reminder to research everything for yourself and to the fullest extent ("11: Investigate"), a point to use personalized and individualized speech rather than clichéd phrases for the sake of mass appeal ("9: Be kind to our language"), and more.
In this graphic edition, Nora Krug draws from her highly inventive art style in Belonging--at once a graphic memoir, collage-style scrapbook, historical narrative, and trove of memories--to breathe new life, color, and power into Snyder's riveting historical references, turning a quick-read pocket guide of lessons into a visually striking rumination. In a time of great uncertainty and instability, this edition of On Tyranny emphasizes the importance of being active, conscious, and deliberate participants in resistance.
Reviews:
"Timothy Snyder is brilliant. On Tyranny is a must read, a clear-eyed guidebook for anyone seeking to learn from history to help us understand the present. It is a manual for how to protect and preserve Democracy. The past teaches us that we, as individuals, must act to reaffirm and protect the freedoms and institutions that we collectively cherish. Listen, learn, be kind and courageous. This stunning new edition beautifully illustrated by Nora Krug makes the lessons jump off the page, into our hearts, filling us with the urgent imperative: act now, before it is too late." --Ken Burns
" On Tyranny is one of the most important books of our time, and Krug enriches Snyder's powerful, accessible text with a transcendent humanity. This book should be read and experienced by everyone, its lessons carved into our hearts." --Nate Powell, graphic novelist, March and Save It for Later
About the Contributors:
Timothy Snyder is the Housum Professor of History at Yale University and a member of the Committee on Conscience of the United States Holocaust Memorial Museum. He is the author of the bestselling books Bloodlands: Europe Between Hitler and Stalin and Black Earth: The Holocaust as History and Warning. His work has received the literature award of the American Academy of Arts and Letters, the Hannah Arendt Prize, and the Leipzig Book Prize for European Understanding. Snyder is a frequent contributor to The New York Review of Books and the Times Literary Supplement and a former contributing editor at The New Republic.
Nora Krug is the author of the graphic memoir Belonging and an associate professor at Parsons School of Design in New York. Her drawings and visual narratives have appeared in The New York Times, The Guardian, and Le Monde diplomatique. Her short-form graphic biography, Kamikaze, about a surviving Japanese World War II pilot, was included in editions of Best American Comics and Best American Nonrequired Reading. She is the recipient of fellowships from the Maurice Sendak Foundation, Fulbright, the John Simon Guggenheim Memorial Foundation, and the Pollock-Krasner Foundation, and of medals from the Society of Illustrators and the New York Art Directors Club.