---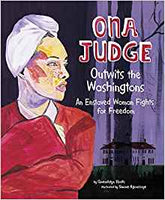 by Gwendolyn Hooks and illustrated by Simone Agoussoye
Capstone Editions
10/1/2019, library binding
SKU: 9781543512809
Soon after American colonists had won independence from Great Britain, Ona Judge was fighting for her own freedom from one of America's most famous founding fathers, George Washington. George and Martha Washington valued Ona as one of their most skilled and trustworthy slaves, but she would risk everything to achieve complete freedom. Born into slavery at Mount Vernon, Ona seized the opportunity to escape when she was brought to live in the President's Mansion in Philadelphia. Ona fled to New Hampshire and started a new life. But the Washingtons wouldn't give up easily. After her escape, Ona became the focus of a years-long manhunt, led by America's first president. Gwendolyn Hooks' vivid and detailed prose captures the danger, uncertainty, and persistence Ona Judge experienced during and after her heroic escape.
Authors:
Gwendolyn Hooks has written many books including If You Were A Kid During the Civil Rights Movement, The Cat Food Mystery, and Tiny Stitches: The Life of Medical Pioneer Vivien Thomas, for which she received the NAACP Image Award for Outstanding Children's Literature. She is the recipient of the Society of Children's Book Writers and Illustrators Crystal Kite Award and her book Block Party is a Junior Library Guide selection. Gwendolyn resides in Oklahoma City, Oklahoma.
Simone Agoussoye is an artist who has been drawing and painting since she was a little girl. Art has always been an outlet for Simone, and by third grade, she knew exactly what she wanted to be when she grew up--an artist. Simone's work incorporates color, nature, and emotion, and she enjoys drawing and painting portraits most of all. Simone lives and works in Baltimore, MD.