---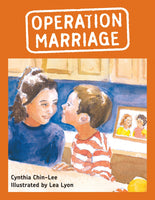 by Cynthia Chin-Lee, Illustrated by Lea Lyon
PM Press
10/1/2011, hardcover
SKU: 9781604864229
Set in the San Francisco Bay area months before the passage of Proposition 8 banned gay marriage in California, this heartwarming picture book tells the humorous story of two stubborn kids who take matters into their own hands. When Alex loses her best friend in an argument over her family not being "traditional," she and her younger brother set out to convince their two mothers to have a real wedding. Though their parents are content with the commitment ceremony they had years earlier, their children's determination prevails and couple is able to become legally married before the proposition takes effect. Their love for each other proves contagious as their neighbors begin to see past their prejudice and accept them for who they have always been: a normal, affectionate family. Based on a true story, this is a touching tale about those who face real challenges in their struggle for equality.
Reviews:
Wearing its heart on its sleeve, this message-driven text . . . will situate itself as part of the early-21st-century movement toward same-sex marriage rights. -- Kirkus Reviews
Cynthia delights audiences, with careful consideration not to leave anyone out. Her books are winners. --Heidi R. Kling, author, Sea
About the Author:
Cynthia Chin-Lee is the author of A Is for the Americas, A Is for Asia, Akira to Zoltan, and Amelia to Zora. She lives in Palo Alto, California. Lea Lyon is an award-winning children's book illustrator, a painting teacher, and a portrait artist. She is the illustrator of Keep Your Ear on the Ball, The Miracle Jar, Playing War, and Say Something. She lives in Richmond, California.