---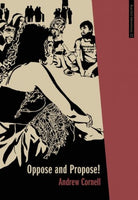 by Andrew Cornell
AK Press
2011
SKU: 9781849350662
Where do the strategies, tactics, and lifestyles of contemporary activists come from?
Movement for a New Society, a radical pacifist organization active in the 1970s and 1980s, pioneered forms of consensus decision making, communal living, direct action, and self-education now central to antiauthoritarian movements. Brimming with analysis, interviews, and archival documents, Oppose and Propose!: Lessons from Movement for a New Society recovers a missing link in recent radical history, while drawing out crucial lessons on leadership, movement building, counterculture, and prefigurative politics.
Andrew Cornell is an educator, writer, and organizer living in Brooklyn, New York. His writing has appeared in the collections Letters from Young Activists, The University against Itself and The Hidden 1970s: Histories of Radicalism.
"The post-Battle of Seattle generation has been searching for a deeper, more meaningful way to engage in fomenting social change. Tired of always being against but never for, or the outsider who parachutes into a community in a time of crisis, we've been looking for other models to expand our praxis as anarchists and autonomists. Andrew Cornell's book is a thoughtful history of a group of thinkers and dreamers in the 1970s that grappled with similar questions. We Seattle babies can learn much from studying the experience of the previous generation." -Yvonne Yen Liu, Colorlines.com
"A thousand thanks to Andrew Cornell for resurrecting and analyzing the history of Movement for a New Society. Young organizers now won't have to reinvent the wheel-or the nonviolent antiauthoritarian collective. Especially insightful are the extended interviews with George Lakey and other MNS veterans. This book is the next best thing to having been there; maybe better, actually." -Mark Rudd, author of Underground: My Life in SDS and Weatherman
"This book is a gift. More than the biography of a twentieth-century organization, Oppose and Propose! is a set of practical tools for twenty-first-century organizers. In the interrogation of its history, Andrew Cornell takes the reader on a journey though the boom-and-bust cycles of Movement for a New Society, and thus illuminates the recurring challenges activists commonly face today. Reading this book was like watching the praxis wheel furiously spin, generating new questions and insights, helping us become students of our context. Cornell reminds us that we are indeed standing on the shoulders of our ancestors." -Joshua Kahn Russell, Ruckus Society
"Written gracefully and clearly, Oppose and Propose! tells a story about an important organization-Movement for a New Society. Its fresh interpretation of American radicalism, based on substantial research and intelligent analysis, transcends its immediate subject and illuminates the meaning of radicalism, pacifism, and rebellion in contemporary U.S. history." -Andrej Grubacic, coauthor of Wobblies and Zapatistas
"Andrew Cornell's brilliant work on prefigurative social movements that grew out of the 1960s provides an important road map for current movements, connecting past and present in a dynamic historical continuity."-Roxanne Dunbar-Ortiz, author of Outlaw Woman: A Memoir of the War Years, 1960-1975