---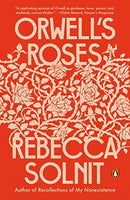 by Rebecca Solnit

Penguin Books
10/18/2022, paperback
SKU; 9780593083376
"In the spring of 1936, a writer planted roses." So be-gins Rebecca Solnit's new book, a reflection on George Orwell's passionate gardening and the way that his involvement with plants, particularly flowers, illuminates his other commitments as a writer and antifascist, and on the intertwined politics of nature and power.
Sparked by her unexpected encounter with the roses he reportedly planted in 1936, Solnit's account of this overlooked aspect of Orwell's life journeys through his writing and his actions--from going deep into the coal mines of England, fighting in the Spanish Civil War, critiquing Stalin when much of the international left still supported him (and then critiquing that left) to his analysis of the relationship between lies and authoritarianism.
Through Solnit's celebrated ability to draw unexpected connections, readers are drawn onward from Orwell's own work as a writer and gardener to encounter photographer Tina Modotti's roses and her politics, agriculture and illusion in the USSR of his time with forcing lemons to grow in impossibly cold conditions, Orwell's slave-owning ancestors in Jamaica, Jamaica Kincaid's examination of colonialism and imperialism in the flower garden, and the brutal rose industry in Colombia that supplies the American market. The book draws to a close with a rereading of Nineteen Eighty-Four that completes Solnit's portrait of a more hopeful Orwell, as well as offering a meditation on pleasure, beauty, and joy as acts of resistance.
Reviews:
"A far-reaching meditation on Orwell's life and on the cultural significance of roses . . . Most affecting is the surprising hopefulness implicit in a political writer's passion for nature: 'Orwell did not believe in permanent happiness or the politics that tried to realize it, but he did believe devoutly in moments of delight, even rapture.'"
The New Yorker
"A brand-new piece of nonfiction from celebrated author and journalist Rebecca Solnit that reconsiders George Orwell's legacy once and for all . . . [she] examines Orwell's lifelong fascination with gardening from all possible directions . . . The task that Solnit has set for herself in this book is mighty, but she's more than up to it as a writer and a thinker; nobody who reads it will ever think of Nineteen Eighty-Four in quite the same way."  -- Vogue
"An avidly researched, richly elucidating book of biographical revelations and evocative discoveries . . . Orwell will always be relied on for his astute understanding of the threat of totalitarianism and its malignant lies; Solnit also ensures that we'll value Orwell's profound understanding of how love, pleasure, and awe for nature can be powerful forms of resistance."  --Booklist

About the Author:

Rebecca Solnit is the author of more than twenty books, including Recollections of My Nonexistence, Whose Story is This? A Field Guide to Getting Lost, The Faraway Nearby, A Paradise Built in Hell, Hope in the Dark, The Mother of All Questions, Call Them by Their Names, River of Shadows, and Wanderlust. She is also the author of Men Explain Things to Me and many essays on feminism, activism and social change, hope, and the climate crisis. A product of the California public education system from kindergarten to graduate school, she is a regular contributor to The Guardian and other publications.