---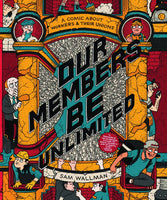 by Sam Wallman
Scribe Publications
9/6/2022, paperback
SKU: 9781950354993
A timely and inspiring work of comics journalism--the history of unions and why we need them (and a first-hand account of working in an Amazon warehouse)
Workers of the world, unite! From comics journalist Sam Wallman comes a thoughtful plunge into the history of unions. Through distinctive art and sharp-eyed reporting, Wallman ushers us into the hidden aisles of 21st-century labor conditions, and shows us recent labor movements and union triumphs--all while framing current conditions against the history of unions and the earliest rallying cries for worker rights.
It's an entry point for younger generations, and a reminder for workers who have had their livelihood reduced by capitalist pressures. It's also a primer for those new to the power of collective action.
From an Amazon warehouse in Melbourne (where Sam worked for a year), to Britain and Bangladesh, to Walmart in China and the New York Taxi Workers Alliance strike against the Trump-era refugee ban of 2017, this book is a highly original and visual exploration of the power of unions.
Reviews:
"Our Members Be Unlimited is a beautiful and often moving guide to union organizing that's in touch with the reality of work today. Sam Wallman draws on the history of working-class resistance and the humanism at the heart of our movement to guide and give heart to activists." --Bhaskar Sunkara, founding editor of Jacobin magazine
"In a narrative that moves from trade-union history to his own efforts organizing in an Amazon warehouse, Sam Wallman draws honest, unsentimental portraits of the working class that was and the working class that is. Most of all, he shares a vision of the working class that could be, depicting the everyday decency of ordinary people as the only hope for a world in crisis. Funny, tender, and wise, this book both delights and inspires." --Jeff Sparrow, author of Crimes Against Nature
About the Author:
Sam Wallman is a comics-journalist and cartoonist based in Melbourne, Australia. His work has been published by The Guardian and The New York Times, among others. In 2016, he visited the United States to draw everyday people's responses to the presidential election for Australian, Italian, and American media outlets.
Sam is a committed unionist, having worked as an organizer for the National Union of Workers, and a delegate on the shop floor prior to that. He has drawn cartoons for over a hundred trade unions and worker organizations around the world, and is currently developing large-scale murals and banners. He works out of the Workers Art Collective studio in the Trades Hall, Melbourne, the oldest union building in the world.