---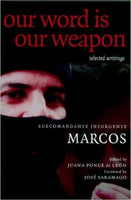 by Subcomandante Insurgente Marcos
Seven Stories Press
2001, paperback

SKU: 9781583224724
Foreword by José Saramago
Edited by Juana Ponce de León
In this landmark book, Seven Stories Press presents a powerful collection of literary, philosophical, and political writings of the masked Zapatista spokesperson, Subcomandante Insurgente Marcos. Introduced by Nobel Prize winner Jos Saramago, and illustrated with beautiful black and white photographs, Our Word Is Our Weapon crystallizes "the passion of a rebel, the poetry of a movement, and the literary genius of indigenous Mexico."
Marcos first captured world attention on January 1, 1994, when he and an indigenous guerrilla group calling themselves Zapatistas revolted against the Mexican government and seized key towns in Mexico's southernmost state of Chiapas. In the six years that passed since their uprising, Marcos altered the course of Mexican politics and emerged an international symbol of grassroots movement-building, rebellion, and democracy. The prolific stream of poetic political writings, tales, and traditional myths which Marcos penned from 1994 to 2000 fill more than four volumes. Our Word Is Our Weapon presents the best of these writings, many of which have never been published before in English.
Throughout this remarkable book we hear the uncompromising voice of indigenous communities living in resistance, expressing through manifestos and myths the universal human urge for dignity, democracy, and liberation. It is the voice of a people refusing to be forgotten the voice of Mexico in transition, the voice of a people struggling for democracy by using their word as their only weapon.
Reviews:
" … Language as strong as dignity and as subtle as love. To read this collection is to discover that rare animal: an original voice." —Publishers Weekly
"A literary masterpiece that provides an invaluable lens into the Zapatista cosmos and one of the most remarkable minds of our time." —San Francisco Bay Guardian
"Set against other radical manifestoes of the past … Our Word Is Our Weapon exudes a political timelessness … The tempered words of Subcomandante Marcos read like an instruction manual for future rebellions." —The Guardian (UK)
"This eccentric collection of writings, which includes everything from the Zapatista's declaration of war to magic-realist stories about a beetle named Durito, proves Marcos to be a passionate and surprisingly self-deprecating writer." —The New Yorker
"This is an extraordinary collection of writings, documenting one of the most important grassroots rebellions of our time. It conveys the mind and spirit of the Zapatista movement with eloquence and astonishing immediacy." —Howard Zinn
"Marcos is the voice for many voices. His words, fashioned from humor and poetry, reveal the deep roots and abundant branches of the Zapatista insurrection in Chiapas. It is an original language for an original movement that is transforming Mexico and is helping to change the world." —Eduardo Galeano
"The Zapatistas are the keepers of the flame. Their insurrection of hope has fired new resistances from Mexico D. F. to Seattle. This book, relished for its incisive analysis and revolutionary humor, should be in the hip-pocket of every activist." —Mike Davis
"It is our fate to live in a country (a land we love) whose government repeatedly and deliberately wounds some of the most precious beings on earth. Beings who can teach us how to live long, faithfully and with gratitude on this planet, our only home. The Zapatistas, descendents of ancient indigenous people, are such beings. Our right relation would be to honor them.
Revolt is the mirror in which greed is forced to see itself. Our Word Is Our Weapon reflects the deep soul beauty and determined hearts of deliberately impoverished people as they stand up to the most insatiable giant the world has ever seen. Theirs is a stance of dignity, courage and self-respect. And that is what they inspire in us, even as they suffer." —Alice Walker
"Somewhere between the passionate analysis of Ricardo Flores Magon, and the poetic fury of Eduardo Galeano, lie these most powerful and essential communiques of the new Mexican Revolution. Possibly the most influential collection of writings upon my musical and political perspective." —Zack de la Rocha, Rage Against the Machine
"Subcomandante Marcos is a poet-revolutionary in the tradition of JosŽ Mart' and Roque Dalton. Our Word Is Our Weapon crystallizes the passion of a rebel, the poetry of a movement, and the literary genius of indigenous Mexico. The flame that burns here is a light for literature and democracy, a dangerous fire for those in power." —Martín Espada
"Our Word Is Our Weapon is a revolutionary's work. Marcos has earned his indignation like few men alive." —Norman Mailer
"Our Word Is Our Weapon exudes a political timelessness. And in this, the age of 'Anti-Corporate, Inc', the tempered words of Subcomandante Marcos read like an instruction manual for future rebellions." —Burhan Wazir, The Observer (UK)
"At its best, the book is language at its most ambitious—a true imagining, and an invention of the real." —Joshua Clover, The Village Voice
About the Author:
Subcomandante Insurgente Marcos is a spokesperson and strategist for the Zapatistas, an indigenous insurgency movement based in Mexico. He first joined the indigenous guerrilla group which was to become the Zapatistas in the early 1980s. Marcos is author of several books translated into English, including Shadows of Tender Fury (Monthly Review Press) which featured early letters and communiques, and a children's book Story of the Colors (Cinco Puntos), which won a Firecracker Alternative Book Award.