---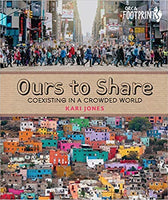 by Kari Jones
Orca Book Publishers
10/8/2019, hardcover
SKU: 9781459816343
There are almost eight billion people alive today. Having that many people in the world puts pressure on both social and natural resources, and we have to ask ourselves difficult questions like, What is our fair share? And how do we share more equitably? Ours to Share starts by giving an overview of human population growth, from the time when there were only a few hundred thousand people until now. The book goes on to examine some of the inequities that happen between people when natural and social resources are stressed and provides examples of people who have found innovative ways to share more equitably with their neighbors. The book also examines the impact our expanding population has had on other species. Finally, the book offers suggestions for actions kids can take to better the world from their own home, school and community.
Reviews:
"A strongly felt and convincingly argued case for more attention to fairness in the allocation of resources."--Kirkus Reviews
"Topics are well-explained and clearly tied to the central topic of overpopulation, making for a fascinating and educational read...While this book is aimed at middle-grade readers, it would make a great introduction to the topic of overpopulation for readers of all ages even adults. Ours to Share is a well-written and timely book, making it an excellent addition to the Orca Footprints Series."--Resource Links
Author:
Kari Jones is the author of several well-received books for kids and teens, including A Fair Deal, in the Orca Footprints series. She lives in Victoria, British Columbia, where she teaches English and creative writing at Camosun College.