---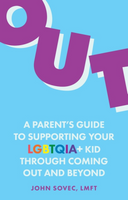 by John Slovic
Jessica Kingsley Publications
4/21/2023, paperback
SKU: 9781839974243
The coming out process for LGBTQIA+ adolescents can be a terrifying moment, not only for themselves, but also for their family and friends. When intense emotions are running the gamut of concern, shock, joy or even anger and acceptance, it can be tricky to process how you feel while giving your child the support they need.
Offering essential guidance and advice, this book is here to help you with chapters that explore LGBTQIA+ terminology, understanding the coming out process, effective communication strategies, talking to your LGBTQIA+ kid about sex, the parents' process of acceptance, and the family coming out process. Importantly, this guide also covers a wide range of lesser-known orientations such as pansexuality and asexuality as well as dedicated chapters on trans youth and the often overlooked grieving process for parents with stories of lived experience throughout.
With a unique three step strategy, you and your family can support your LGBTQIA+ child's newly shared identity, create a stronger family unit, and move towards a more open, affirming relationship based on honest communication and understanding.
Reviews:
"A powerful, intelligent, and empathetic book that guides parents and professionals in supporting LGBTQIA+ kids through the coming out process. Out, addresses many of the fears and anxieties parents of LGBTQIA+ children face in a kind and compassionate manner." -- Dr. Dustin Nowaskie, Founder & President OutCare Health
"Informative, practical, and authentic. What a gift this book is to so many parents, kids, families. Sovec gives parents, wherever they are, the experience of being safe, seen, and soothed, gently helping them move toward being the parent their LGBTQ+ kid needs them to be." -- Tina Payne Bryson, LCSW, PhD, New York Times Bestselling co-author of The Whole-Brain Child & No-Drama Discipline, Founder of The Center for Connection

"The best thing about this book is that you don't have to know anything before you pick it up - all you need to do is start on page one. It's not technical, it's deeply personal, in a way that can only come from years of working with LGBTQ youth and their families." -- Dr Laura Erickson-Schroth, Editor of Trans Bodies, Trans Selves, Chief Medical Officer at The Jed Foundation
About the Author:
John Sovec is a licensed therapist, counselor and coach who specializes in working with LGBTQIA+ teens and their families during the coming out process. John has written for Huffington Post, Medium and Good Therapy and appeared on the Ricki Lake Show, OWN, Shahs of Sunset, Raising Whitley, BRAVO, Fox News, The Washington Post, and LA Talk Radio. He is the host of OutTalk and lives in Pasadena, California with his husband.