---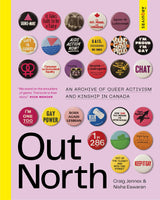 by Craig Jennex and Nisha Eswaran
Figure 1 Publishing
10/23/2020, hardcover
SKU: 9781773271002
The ArQuives, the largest independent LGBTQ2+ archive in the world, is dedicated to collecting, preserving, and celebrating the stories and histories of LGBTQ2+ people in Canada. Since 1973, volunteers have amassed a vast collection of important artifacts that speak to personal experiences and significant historical moments for Canadian queer communities.
Out North: An Archive of Queer Activism and Kinship in Canada is a fascinating exploration and examination of one nation's queer history and activism, and Canada's definitive visual guide to LGBTQ2+ movements, struggles, and achievements.
Full of beautiful, full-color images!
About the Contributors:
Craig Jennex is an Assistant Professor of English at Ryerson University. He is co-editor of Popular Music and the Politics of Hope: Queer and Feminist Interventions (Routledge, 2019). His writing has appeared in TOPIA: Canadian Journal of Cultural Studies, Popular Music & Society, the Journal of Canadian Studies, GUTS: A Canadian Feminist Magazine, the Ashgate Research Companion to Popular Music and Politics, The Spaces and Places of Canadian Popular Culture, among others. 
Nisha Eswaran is a writer and academic based in Toronto, Ontario. Her work has appeared in Postcolonial Text, South Asian Review, Kajal, and Jamhoor. She is a PhD candidate in the Department of English and Cultural Studies at McMaster University in Hamilton, Ontario, where she researches friendship and anti-colonial history in South Asian literature.