---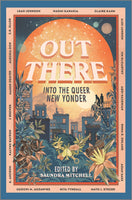 Edited by Saundra Mitchell
Inkyard Press
06/07/2022, hardcover
SKU: 9781335425898
Into the queer new yonder!
To conclude the trio of anthologies that started with critically acclaimed All Out and Out Now, Out There features seventeen original short stories set in the future from fantastic queer YA authors.
Explore new and familiar worlds where the human consciousness can be uploaded into a body on Mars... an alien helps a girl decide if she should tell her best friend how she feels... two teens get stuck in a time loop at a space station... people are forced to travel to the past or the future to escape the dying planet... only a nonbinary person can translate the binary code of a machine that predicts the future... everyone in the world vanishes except for two teen girls who are in love.
This essential and beautifully written collection immerses and surprises with each turn of the page.

With original stories from:
Ugochi M. Agoawike
K. Ancrum
Kalynn Bayron
Z Brewer
Mason Deaver
Alechia Dow
Z.R. Ellor
Leah Johnson
Naomi Kanakia
Claire Kann
Alex London
Jim McCarthy
Abdi Nazemian
Emma K. Ohland
Adam Sass
Mato J. Steger
Nita Tyndall
Target age: 13 and up
Reviews:
"Sumptuous language, plentiful historical detail, and satisfying endings... Readers searching for positive, nuanced, and authentic queer representation-or just a darn good selection of stories-need look no further than this superb collection." -- Kirkus Reviews, starred review
"LGBTQIA story collections are scarce, but even if they weren't, this one would be essential." -- Booklist
"The diversity is refreshing... well written... Give to those teens who don't read full novels but still long for LGBTQ representation. A strong choice for most collections." -- School Library Journal
About the Editor:
Saundra Mitchell has been a phone psychic, a car salesperson, a denture deliverer, and a layout waxer. The author of eighteen books for tweens and teens, Mitchell has written work that includes Edgar Award nominee Shadowed Summer, The Vespertine series, and Indiana Author Award Winner and Lambda Nominee All the Things We Do in the Dark, as well as the Camp Murderface series with Josh Berk. She is the editor of four anthologies: Defy the Dark, All Out, Out Now, and Out There.