---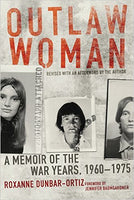 Sale
by Roxanne Dunbar-Ortiz
University of Oklahoma Press
2014, paperback
SKU: 9780806144795
A working-class, feminist perspective from a leader of the women's and antiwar movements
In 1968, Roxanne Dunbar-Ortiz helped found the Women's Liberation Movement, part of what has been called the second wave of feminism in the United States. Along with a small group of dedicated women in Boston, she produced the first women's liberation journal, No More Fun and Games.
Dunbar-Ortiz was also an antiwar and anti-racist activist and organizer throughout the 1960s and early 1970s and a fiery, tireless public speaker on issues of patriarchy, capitalism, imperialism, and racism. She worked in Cuba with the Venceremos Brigade and formed associations with other revolutionaries across the spectrum of radical politics, including the Civil Rights Movement, Students for a Democratic Society, the Revolutionary Union, the African National Congress, and the American Indian Movement. Unlike most of those involved in the New Left, Dunbar-Ortiz grew up poor, female, and part–Native American in rural Oklahoma, and she often found herself at odds not only with the ruling class but also with the Left and with the women's movement.
Dunbar-Ortiz's odyssey from Oklahoma poverty to the urban New Left gives a working-class, feminist perspective on a time and a movement that forever changed American society. In a new afterword, the author reflects on her fast-paced life fifty years ago, in particular as a movement activist and in relationships with men.