---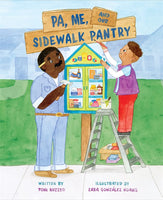 by Toni Buzzeo, illustrated by González Hoang 
Harry N. Abrams
7/11/2023, hardcover
SKU: 9781419749377
A kind and generous grandparent-grandchild duo nourish their neighborhood in this new picture book from critically acclaimed author Toni Buzzeo
Pa and his grandchild, Jelly Bean, have a sidewalk library filled with stories. Anyone can bring donations or take something to read. Jelly Bean loves the sidewalk library! But what about when their neighbors might need something more than books?
Together, Pa and Jelly Bean build a sidewalk pantry right next to the sidewalk library. They get donations from neighbors who have a lot to give, and leave the doors open for those who may not have enough.
This charming multigenerational story from award-winning author Toni Buzzeo and rising-star illustrator Zara González Hoang celebrates community, generosity, and creative problem solving.
Target age: 4 to 8
Reviews:
"Buzzeo has written a timely book on the underrated power of libraries and mutual aid. Hoang's delicate use of colored pencil and watercolor gives the tale an endearing and pleasant touch. A charming, intergenerational story of compassion, creativity, and community." -- Kirkus
About the Contributors:
Toni Buzzeo is the author of the Caldecott Honor Book and New York Times bestseller One Cool Friend and many other books for children. She lives in Arlington, Massachusetts. 
Zara González Hoang is the illustrator of several picture books. She grew up in a little bungalow in the frozen tundra of Minnesota. Surrounded by snow, she spent her days dreaming, doodling, and listening to the colorful stories of her dad's life growing up in Puerto Rico while navigating her place as a Puerto Rican Jew in a sea of Scandinavians. (She's still figuring that out.) These days, she lives outside of Washington, D.C., with her husband, their kids, and a curly coated corgi named Ziggy.