---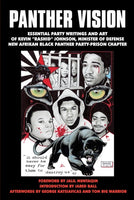 by Kevin "Rashid" Johnson
Kersplebedeb
2015, paperback
SKU: 9781894946766
Kevin "Rashid" Johnson entered the u.s. prison system over 20 years ago, one of countless young Black men consigned to lifelong incarceration by the post-civil right policies of anti-Black genocide. While behind bars, Rashid encountered the ideas of revolutionary Black nationalism and Marxism-Leninism, and of the people and organizations who have used and developed these ideas in previous generations, foremost amongst these being the Black Panther Party for Self-Defense. Along with other Black/New Afrikan prisoners, Rashid helped found the New Afrikan Black Panther Party-Prison Chapter, while using both his artwork and his political writings as avenues to advance the cause of liberation for all.
Here, collected in book form for the first time, are Rashid's core writings as Minister of Defense of the NABPP-PC. Subjects addressed include the differences between anarchism and Marxism-Leninism, the legacy of the Black Panther Party, the timeliness of Huey P. Newton's concept of revolutionary intercommunalism, the science of dialectical and historical materialism, the practice of democratic centralism, as well as current events ranging from u.s. imperialist designs in Africa to national oppression of New Afrikans within u.s. borders. And much more.
Be sure to check out the other titles from our friends at Kersplebedeb.
Reviews:
"The original Black Panther Party for Self-Defense challenged the prevailing socio-political and economic relationship between the government and Black people. The New Afrikan Black Panther Party is building on that foundation, and Rashid's writings embrace the need for a national organization in place of that which had been destroyed by COINTELPRO and racist repression. We can only hope this book reaches many, and serves to herald and light a means for the next generation of revolutionaries to succeed in building a mass and popular movement." --Jalil Muntaqim, Political Prisoner
"All Praise due to Brother Kevin Rashid Johnson, for his courage, determination and commitment from deep within the belly of the beast. For using his pen as a weapon to put forth his vision and perspectives, to inform and enlighten, to be discussed and evaluated." --Emory Douglas, Former Minister of Culture, Black Panther Party
"The U.S. is a society that originally based itself on a form of prison labor called slavery. Then it based itself on a form of slavery called racial segregation. Now it sets at the core of its political culture a form of racial segregation called the prison industry, run by a judicial machine. Each of these phases of U.S. history has used its racialization of class relations to render its class exploitation extreme. As with all exploitation, there is resistance. Today, Rashid's is one of the most powerful voices of that resistance." --Steve Martinot, author of The Rule of Racialization