---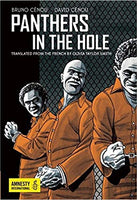 by Bruno Cénou, David Cénou, translated by Olivia Taylor Smith
Phoneme Media
7/1/2016, paperback
SKU: 9781939419811
In 1972, inmates Robert Hillary King, Albert Woodbox, and Herman Wallace were put in solitary confinement in Louisiana State Penitentiary (a.k.a. Angola Prison), after being convicted under questionable circumstances for the killing of a prison guard.
Because of their work organizing on behalf of the Black Panthers, Robert King spent 29 years in solitary confinement before his conviction was overturned and he was released. Wallace was released in 2013, after more than 41 years in prison, and days later of liver cancer. In November of 2014, Woodfox had his conviction overturned by the US Court of Appeals, and in April 2015 his lawyer applied for an unconditional writ for his release. As of June of 2015, that release has been blocked by the 5th Circuit Court of Appeals.
Despite documentary films, a long-running campaign by Amnesty International, and appeals from the murdered prison guard's widow, Albert Woodfox remains the longest-serving U.S. prisoner in solitary confinement.
What is it like to spend decades in solitary confinement for a crime you did not commit? Panthers in the Hole relates the experience of three men whose lives were snatched away by a prison system that seems more at home in a totalitarian regime than America.
Authors:
Bruno Cénou was born in Agen in 1968 and has lived in Marseille since 1994. After studying philosophy, he became interested in information technology and, in particular, free software and the free circulation of intellectual property. He currently works for the National Center for Scientific Research. Panthers in the Hole is his first graphic novel.
David Cénou published his first graphic novel, Mirador, tete de mort, in 2011, a no-holds-barred memoir about his past as a skinhead. He is a nurse in Agen. Panthers in the Hole is his second book.
Olivia Taylor Smith is the Executive Editor at Unnamed Press. She lives in Los Angeles.