---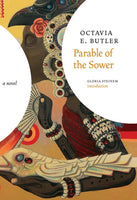 by Octavia Butler
Seven Stories Press
2017, hardcover
SKU: 9781609807191
Parable of the Sower is the Butlerian odyssey of one woman who is twice as feeling in a world that has become doubly dehumanized. The time is 2025. The place is California, where small walled communities must protect themselves from hordes of desperate scavengers and roaming bands of people addicted to a drug that activates an orgasmic desire to burn, rape, and murder. When one small community is overrun, Lauren Olamina, an 18 year old black woman with the hereditary train of "hyperempathy"--which causes her to feel others' pain as her own--sets off on foot along the dangerous coastal highways, moving north into the unknown.
With an introduction by Gloria Steinem.
About the Author:
A writer who darkly imagined the future we have destined for ourselves in book after book, and also one who has shown us the way toward improving on that dismal fate, Octavia E. Butler (1947-2006) is recognized as among the bravest and smartest of contemporary fiction writers. A 1995 MacArthur Award winner, Butler transcended the science fiction category even as she was awarded that community's top prizes, the Nebula and Hugo Awards. She reached readers of all ages, all races, and all religious and sexual persuasions. For years the only African-American woman writing science fiction, Butler has encouraged many others to follow in her path.