---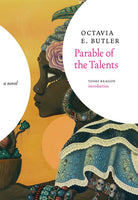 by Ocatvia Butler
Seven Stories Press
2017, hardcover
SKU: 9781609807207
Parable of the Talents celebrates the classic Butlerian themes of alienation and transcendence, violence and spirituality, slavery and freedom, separation and community, to astonishing effect, in the shockingly familiar, broken world of 2032. Long awaited, Parable of the Talents is the continuation of the travails of Lauren Olamina, the heroine of 1994's Nebula-Prize finalist, bestselling Parable of the Sower. Parable of the Talents is told in the voice of Lauren Olamina's daughter--from whom she has been separated for most of the girl's life--with sections in the form of Lauren's journal. Against a background of a war-torn continent, and with a far-right religious crusader in the office of the U.S. presidency, this is a book about a society whose very fabric has been torn asunder, and where the basic physical and emotional needs of people seem almost impossible to meet.
With an introduction by Toshi Reagon!
About the Author:
A writer who darkly imagined the future we have destined for ourselves in book after book, and also one who has shown us the way toward improving on that dismal fate, Octavia E. Butler (1947-2006) is recognized as among the bravest and smartest of contemporary fiction writers. A 1995 MacArthur Award winner, Butler transcended the science fiction category even as she was awarded that community's top prizes, the Nebula and Hugo Awards. She reached readers of all ages, all races, and all religious and sexual persuasions. For years the only African-American woman writing science fiction, Butler has encouraged many others to follow in her path.