---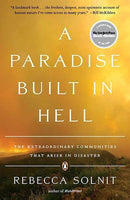 by Rebecca Solnit
Penguin Group
2010, paperback
SKU: 9780143118077
Chosen as a Best Book of the Year by the New York Times, Los Angeles Times, New Yorker, San Francisco Chronicle, Washington Post, and Chicago Tribune 
The most startling thing about disasters, according to award-winning author Rebecca Solnit, is not merely that so many people rise to the occasion, but that they do so with joy. That joy reveals an ordinarily unmet yearning for community, purposefulness, and meaningful work that disaster often provides. A Paradise Built in Hell is an investigation of the moments of altruism, resourcefulness, and generosity that arise amid disaster's grief and disruption and considers their implications for everyday life. It points to a new vision of what society could become-one that is less authoritarian and fearful, more collaborative and local.
Reviews:
"Everyone feels alone in a crisis . . . It needn't be that way. In fact, as the incomparable Rebecca Solnit has shown throughout her long, meandering, brilliant career, but especially in [this book], it must not be. A Paradise Built in Hell is an eye-opening account of how much hope and solidarity emerges in the face of sudden disaster . . . [These lessons] offer deep comfort now, as antidotes not just to feelings of helplessness but loneliness." -David Wallace-Wells, New York Magazine
"Thought-provoking . . . captivating and compelling . . . there's a hopeful, optimistic, even contagious quality to this superb book." -Los Angeles Times
"Far-reaching and large-spirited." -San Francisco Chronicle
"Stirring . . . fascinating . . . presents a withering critique of modern capitalist society by examining five catastrophes . . . Her account of these events are so stirring that her book is worth reading for its storytelling alone. . . . [An] exciting and important contribution to our understanding of ourselves." -The Washington Post
About the Author:
Rebecca Solnit is the author of numerous books, including Hope in the Dark, River of Shadows: Eadweard Muybridge and the Technological Wild West, Wanderlust: A History of Walking, and As Eve Said to the Serpent: On Landscape, Gender, and Art, which was nominated for the National Book Critics Circle Award in Criticism. In 2003, she received the prestigious Lannan Literary Award.