---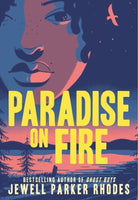 by Jewell Parker Rhodes
Little, Brown Books for Young Readers
9/14/2021, hardcover
SKU: 9780316493833
BCALA 2021 Best of the Best Book
From award-winning and bestselling author Jewell Parker Rhodes comes a powerful coming-of-age survival tale exploring issues of race, class, and climate change
Addy is haunted by the tragic fire that killed her parents, leaving her to be raised by her grandmother. Years later, Addy's grandmother has enrolled her in a summer wilderness program. There, Addy joins five other Black city kids--each with their own troubles--to spend a summer out west.
Deep in the forest the kids learn new (and to them) strange skills: camping, hiking, rock climbing, and how to start and safely put out campfires. Most important, they learn to depend upon each other for companionship and survival.
But then comes a devastating forest fire...
Addy is face-to-face with her destiny and haunting past. Developing her courage and resiliency against the raging fire, it's up to Addy to lead her friends to safety. Not all are saved. But remembering her origins and grandmother's teachings, she's able to use street smarts, wilderness skills, and her spiritual intuition to survive.
Target age: 10 to 13
Reviews:
"The book is sparsely written, poetic in its style. Despite the destruction, the narrative is fundamentally optimistic, rooted in the power of nature and community to bring us back to ourselves when we fear all is lost." -- The Los Angeles Times
"People of color have not historically featured in wilderness stories, which makes this title refreshing, especially in light of national conversations around racial equity in outdoor spaces. A strong read-alike for Gary Paulsen fans or older kids who have graduated from the I Survived series but are still seeking a thrilling survival story." -- Booklist
"Addy is a heroine any reader might aspire to be, a teenager who learns to trust her own voice and instincts, who realizes that fire can live within someone, too."-- New York Times
About the Author:
Jewell Parker Rhodes is the author of Ninth Ward, winner of a Coretta Scott King Honor; Sugar, winner of the Jane Addams Children's Book Award; and the New York Times-bestselling Ghost Boys; as well as Bayou Magic; Towers Falling; Black Brother, Black Brother; and Paradise on Fire. She has written many award-novels for adults, including, MAGIC CITY, a novel about the 1921 Tulsa Race Massacre. Jewell is the Virginia G. Piper Endowed Chair of Creative Writing at Arizona State University.