---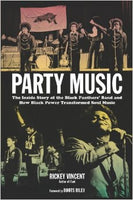 by Rickey Vincent
Chicago Review Press
2014, paperback
SKU: 9781613744925
The surprising rediscovery of the Black Panther's own music group.
Connecting the black music tradition with the black activist tradition, Party Music brings both into greater focus than ever before and reveals just how strongly the black power movement was felt on the streets of black America. Interviews reveal the never-before-heard story of the Black Panthers' R&B band the Lumpen and how five rank-and-file members performed popular music for revolutionaries. Beyond the mainstream civil rights movement that is typically discussed are the stories of the Black Panthers, the Black Arts Movement, the antiwar activism, and other radical movements that were central to the impulse that transformed black popular music—and created soul music.
With a forward by Boots Riley.
Reviews:
"A fascinating history of the Black Panthers, their house band and the music that inspired them. Rickey Vincent is well qualified to tell the story of the Black Panthers; his mother was a party member, his father a black politics historian and it's that combination of first-person insight and thorough research that makes this book so riveting. Like the Panthers, Vincent thinks outside the box, telling their story through the lens of The Lumpen, the Panthers' house band. ... Vincent takes each song played at a 1970 Oakland show as the springboard for discussion. For example: Their radical reworking of Sly And The Family Stones' 'Dance To The Music' leads to a brief history of Sly; the intelligent debate on the Bay Area counter culture revolution, the 10 point programme and so on." —MOJO, Four Stars
About the Author:
Rickey Vincent has written about music for "Vibe", "Mondo 2000", and elsewhere. An instructor at San Francisco State University, he is known among Bay Area funkateers as the Uhuru Maggot, thanks to his all-funk radio show on KPFA. He lives in Berkeley, California, with his wife and son.
Boots Riley is a rapper, producer, activist, and the lead vocalist of The Coup and Street Sweeper Social Club.