---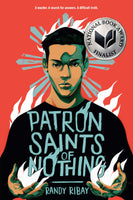 by Randy Ribay
Penguin Books
4/21/2020, paperback
SKU: 9780525554929
A powerful coming-of-age story about grief, guilt, and the risks a Filipino-American teenager takes to uncover the truth about his cousin's murder.
Jay Reguero plans to spend the last semester of his senior year playing video games before heading to the University of Michigan in the fall. But when he discovers that his Filipino cousin Jun was murdered as part of President Duterte's war on drugs, and no one in the family wants to talk about what happened, Jay travels to the Philippines to find out the real story.
Hoping to uncover more about Jun and the events that led to his death, Jay is forced to reckon with the many sides of his cousin before he can face the whole horrible truth -- and the part he played in it.
As gripping as it is lyrical, Patron Saints of Nothing is a page-turning portrayal of the struggle to reconcile faith, family, and immigrant identity.
Target age: 14 and up
Reviews:
"Passionately and fearlessly, Ribay delves into matters of justice, grief, and identity." -- Publishers Weekly, starred review
"Compelling and informational" -- VOYA Magazine, starred review  
"A must-read." - Erin Entrada Kelly, author of 2018 Newbery Award-winning Hello, Universe
"Lyrical. Stunning. Searing...The real deal."- Mark Oshiro, author of Anger Is a Gift 
"Riveting, brilliantly told and deeply moving." - Francisco X. Stork, author of Disappeared
"Complex, gripping, haunting and deeply human... a story alive with longing and pain and grace. - Kelly Gilbert, author of Picture Us In The Light
About the Author:
Randy Ribay was born in the Philippines and raised in the Midwest. He is the author of After the Shot Drops and An Infinite Number of Parallel Universes. He earned his BA in English Literature from the University of Colorado at Boulder and his Master's Degree in Language and Literacy from Harvard Graduate School of Education. He currently teaches English and lives in the San Francisco Bay Area.