---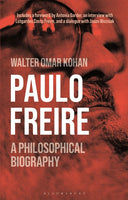 by Walter Omar Kohan
Bloomsbury Academic
6/3/2021, paperback
SKU: 9781350195981
Paulo Freire (1921-1997) is one of the most widely read and studied educational thinkers of our time. His seminal works, including Pedagogy of the Oppressed, sparked the global social and philosophical movement of critical pedagogy and his ideas about the close ties between education and social justice and politics are as relevant today as they ever were.
In this book, Walter Omar Kohan interweaves philosophical, educational, and biographical elements of Freire's life which prompt us to reflect on what we thought we knew about Freire, and also on the relationship between education and politics more broadly. It offers a new and timely reading of Freire's work and life. 
The book is structured around five key themes that provide a new perspective to on Freire's work: life, equality, love, errantry and childhood. It includes a contextualization of Freire's work within the past and current political terrain in Brazil, and encourages educators to put themselves and their educational work into question by highlighting some of Freire's lesser known thoughts on time. The book also includes a conversation with Lutgardes Costa Freire, Paulo's Freire's youngest son, a dialogue with the co-founder of the Latin American Philosophy of Education Society, Jason Wozniak (West Chester University, USA), and a foreword by the renowned Freirean scholar and activist Antonia Darder (Loyola Marymount University, USA).
Reviews:
"I cannot think of a better book to assist the many educators and scholars seeking inspiration to create pedagogies of freedom. Kohan generously presents paths to move beyond simplistic readings of ineffective, yet, radical-sounding educational models, while beautifully providing a bold and much needed 're-invention' of Freire's ideas." -- Gustavo E. Fischman, Professor of Comparative and International Education, Arizona State University, USA
"Offers a fresh an innovative analysis of key postulates in Freire's work, such as Love or Equality, central components of the emancipation logic in Freire's epistemology. Relating them to gnoseological educative principles, this book traces some of Freire's philosophical propaedeutical roots and underscores his relevance today. A tour de force, philosophically confronting how the shadow of dominant educational neoliberal regimes, such as testing and accountability or the logic of possessive individualism as the main aim of education, have failed to emancipate individuals and societies, while also undermining the foundations of the scientific humanism represented in Freire's oeuvre." -- Carlos Alberto Torres, Distinguished Professor of Education, UNESCO Chair in Global Learning and Global Citizenship Education, and Director of the Paulo Freire Institute at the University of California, Los Angeles (UCLA), USA
About the Author:
Walter Omar Kohan is Full Professor at the State University of Rio de Janeiro, Brazil, and Researcher at the National Council for Scientific and Technological Development, Brazil. He is Past President of the International Council of Philosophical Inquiry with Children (ICPIC) and has authored or edited more than 50 books. His publications in English include Philosophy and Childhood (2014), The Inventive Schoolmaster (2015) and Childhood, Education and Philosophy (2015).