---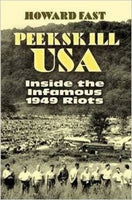 by Howard Fast
Dover Publications
2006, paperback
SKU: 9780486452968
In the late summer of 1949, a racist, fascist mob protesting a concert by African-American singer Paul Robeson assaulted working class blacks and whites with rocks and bottles in upstate New York. Fast's compelling and detailed you-are-there account of the violence records a landmark in the civil rights movement. 10 illustrations.
Surprising relevant in today's political climate.
An unabridged republication of the edition originally published as Peekskill: USA by the Civil Rights Congress, New York, in 1951.