---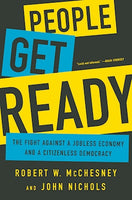 by Robert W. McChesney and John Nichols
Nation Books
2016, hardcover
SKU: 9781568585215
Humanity is on the verge of its darkest hour or its greatest moment.
The consequences of the technological revolution are about to hit hard: unemployment will spike as new technologies replace labor in the manufacturing, service, and professional sectors of an economy that is already struggling. The end of work as we know it will hit at the worst moment imaginable: as capitalism fosters permanent stagnation, when the labor market is in decrepit shape, with declining wages, expanding poverty, and scorching inequality. Only the dramatic democratization of our economy can address the existential challenges we now face. Yet, the US political process is so dominated by billionaires and corporate special interests, by corruption and monopoly, that it stymies not just democracy but progress.
The great challenge of these times is to ensure that the tremendous benefits of technological progress are employed to serve the whole of humanity, rather than to enrich the wealthy few. Robert W. McChesney and John Nichols argue that the United States needs a new economy in which revolutionary technologies are applied to effectively address environmental and social problems and used to rejuvenate and extend democratic institutions. Based on intense reporting, rich historical analysis, and deep understanding of the technological and social changes that are unfolding, they propose a bold strategy for democratizing our digital destiny before it's too late and unleashing the real power of the Internet, and of humanity.
About the Authors:
Robert W. McChesney is the Gutgsell Endowed Professor in the Department of Communication at the University of Illinois at Urbana-Champaign. He is the author of The Political Economy of Media, Communication Revolution, The Problem of the Media, and Rich Media, Poor Democracy.
John Nichols, a pioneering political blogger, has written "The Nation"'s Online Beat since 1999, is their Washington, DC, correspondent, and is a contributing writer for "The Progressive" and "In These Times." He is also the associate editor of the "Capital Times," the daily newspaper in Madison, Wisconsin, and a co-founder of Free Press. His articles have appeared in the "New York Times," "Chicago Tribune," and dozens of other newspapers, and he frequently appears on MSNBC, NPR, BBC and other broadcast media outlets as a commentator on politics and media issues.