---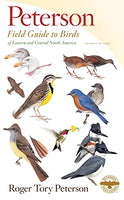 by Roger Tory Peterson
Mariner Books
10/13/2020, paperback
SKU: 9781328771438
A new edition of the classic, best-selling field guide from Peterson Field Guides.
For decades, the Peterson Field Guide to Birds of Eastern and Central North America has been a popular and trusted guide for birders of all levels, thanks to its famous system of identification and unparalleled illustrations. Following the Spring 2020 update to Peterson Field Guide to Birds of North America, this guide will feature updated text and range maps, and art updated to reflect current knowledge in ornithology.

About the Author:

Roger Tory Peterson, one of the world's greatest naturalists, received every major award for ornithology, natural science, and conservation as well as the Presidential Medal of Freedom. The Peterson Identification System has been called the greatest invention since binoculars.