---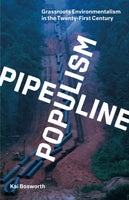 by Kai Bosworth
University of Minnesota Press
5/24/2022, paperback
SKU: 9781517911065
How contemporary environmental struggles and resistance to pipeline development became populist struggles

Stunning Indigenous resistance to the Keystone XL and the Dakota Access pipelines has made global headlines in recent years. Less remarked on are the crucial populist movements that have also played a vital role in pipeline resistance. Kai Bosworth explores the influence of populism on environmentalist politics, which sought to bring together Indigenous water protectors and environmental activists along with farmers and ranchers in opposition to pipeline construction.
Here Bosworth argues that populism is shaped by the "affective infrastructures" emerging from shifts in regional economies, democratic public-review processes, and scientific controversies. With this lens, he investigates how these movements wax and wane, moving toward or away from other forms of environmental and political ideologies in the Upper Midwest. This lens also lets Bosworth place populist social movements in the critical geographical contexts of racial inequality, nationalist sentiments, ongoing settler colonialism, and global empire--crucial topics when grappling with the tensions embedded in our era's immense environmental struggles.
Pipeline Populism reveals the complex role populism has played in shifting interpretations of environmental movements, democratic ideals, scientific expertise, and international geopolitics. Its rich data about these grassroots resistance struggles include intimate portraits of the emotional spaces where opposition is first formed. Probing the very limits of populism, Pipeline Populism presents essential work for an era defined by a wave of people-powered movements around the world.
Reviews:
"Environmental populism is a genre of white settler politics that may reiterate the worst parts of American hubris and anti-government individualism, but it may also have openings within it for transformation, through solidarity with indigenous people and more radical political action. Kai Bosworth's wonderful analysis of the 'affective infrastructures' of environmental populism helps us see the politics of climate change, and of populism, with a sharper and more nuanced eye. This book is an indispensable guide to many of the problems plaguing left-wing environmental politics, and it also offers us a clearer vision with which to move forward, both as academics and political actors."--Lida Maxwell, author of Insurgent Truth: Chelsea Manning and the Politics of Outsider Truth-Telling
"Pipeline Populism is an endlessly insightful, generative study of environmental populism as a response to extractivism and neoliberal environmentalism. Sensitive to multiracial populism's democratic aspirations and its settler colonial desires, Kai Bosworth offers a vital guide to the limits of populist pipeline resistance and its resources for more revolutionary socialist transformation. This is essential reading for those interested in left-wing populism and climate justice alike."--Laura Grattan, author of Populism's Power: Radical Grassroots Democracy in America
About the Author:
Kai Bosworth is assistant professor of international studies in the School of World Studies at Virginia Commonwealth University.