---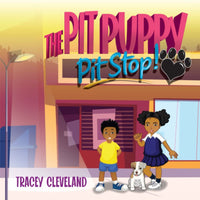 by Tracey Cleveland
Truth Reigns, LLC
10/11/2021, paperback
SKU: 9780578999142
A journey of love spanning seven states — uniting a pup with her "fur-ever" family!

Tracey is on a quest to rescue a puppy from a shelter. The only problem — the little fur ball she wants to adopt lives in Oklahoma — and she's in New York. That's a 20-hour car ride! See how dedicated volunteers — working hard to save animals in each state — jump into action to get little Trudy the home she deserves.
Based on a real non-profit organization, children learn how animal rescues operate and why it's important to support them — especially if you're looking to add a four-legged member to your own family.
About the Author:
Tracey Cleveland was born in Rochester, NY and has resided on the east and west coast. She currently resides in Buffalo, NY with her son. In addition to Trudy and Mr. Beanz, who are rescue dogs, she is also the proud Mom of Rockey, a 17-year-old Cockapoo. Her favorite moment is when she comes home from a long day of work and is greeted with lots of hugs and kisses from her furry friends. She is a lover of animals and grew up appreciating the joy that animals bring into the home. When she is not writing, she can be found volunteering with animal rescue and helping other furry friends to find their furever home!  She is an advocate for rescue animals.