---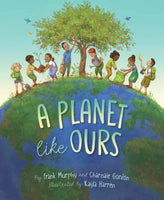 by Frank Murphy and Charnaie Gordon, illustrated by Kayla Harren
Sleeping Bear Press
08/15/2022, hardcover
SKU: 9781534111530
Our planet Earth is as individual and special as each one of us. Its ability to sustain and nurture life is unique in our solar system -- and beyond. In this book, celebrate all the wonderful, miraculous, astounding qualities of our Earth while learning how to protect her for future generations.
After all, "If not us, then who?"
From award-winning author Frank Murphy and Here Wee Read blogger, Charnaie Gordon.
Target age: 4 to 8
About the Contributors:
Frank Murphy has taught a wide variety of grades in elementary and middle school. A history buff, baseball fan, and popular speaker, Frank is the author of many fun historical fiction books for young readers.
Charnaie Gordon is a Diversity and Inclusion Expert, author of A Kids Book About Diversity, blogger, podcast host, and digital creator. She also serves as a member of the National Advisory Board for Reading is Fundamental for their Race, Equity and Inclusion (REI) initiative. More than anything else, she cares about connecting people with great books they'll love. In her world, books are an absolute necessity. Charnaie is passionate about instilling a love of reading, lifelong learning and curiosity in her kids. She hopes to inspire others to do the same with their children.
Kayla Harren graduated from the School of Visual Arts in New York City. She illustrated the award-winning picture books A Boy Like You and The Boy Who Grew A Forest. Kayla draws pictures at her home in Minnesota, where she lives with her husband and dogs.