---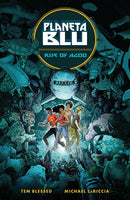 by Tem Blessed, Illustrated by Michael Laricca
Dark Horse Books
11/21/2023, paperback
SKU: 9781506737287
A group of inner-city youths suddenly gain the ability to speak with animals, and they must use that and other new superpowers to fight to save the world!
After Lares, her brother Angel, and their friends Tomé and Tyler gain magical abilities, they stumble upon a looming war. The animal kingdom is ramping up to save the earth -- "Planeta Blu" -- by taking on the global climate crisis by fighting pollution at the source. One billionaire oil tycoon has sinister machinations at work, but the globe's animals and the young team of humans will need to work together if they want to have any chance at saving our world!
Written by activist and rapper Tem Blessed and illustrated by Xeric award-winning artist Michael LaRiccia, Planeta Blu is a story of courage, compassion, love, and sacrifice to make our world a better home for all living beings.
Target age: 13 to 17
About the Contributors: 
Tem Blessed is a socially conscious Hip-Hop artist that has been making relevant music with a message for over a decade. Born in Guinea-Bissau, West Africa to Cape Verdean parents, "Tem" has worked for over 19 years empowering youth through music. While tucking his 4 children in at night, he created original bedtime stories. Those fantastic stories became the framework for his debut novel Planeta Blu, which has beckoned him since, to see the light of day.
Mike LaRiccia is a Xeric award-winning comic book artist, illustrator, animator, and graphic designer. He has created illustrations for multiple tabletop games, developed animation for corporations and fundraisers, and done graphic design work for nonprofits and schools. In his free time, he's completing his original fantasy graphic novel DECAY Death of All Things.