---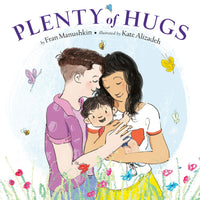 by Fran Manushkin, Illustrated by Katie Alizadeh
Dial Books
4/14/2020, hardcover
SKU: 9780525554011
Two mommies spend a sunny day with their toddler in this cozy, rhyming picture book that is a loving celebration of family.
This cheerful book follows a family from morning to night in lively rhyme that rolls off the tongue. There's a buzz for each bug, and a breeze for each tree, and plenty of hugs for you and me. The toddler and mommies take a morning bike ride to a farm stand, they visit a zoo in the afternoon, and in the evening there's the bath and storybook routine before the child is tucked cozily into bed. There are seas for ships and kisses for lips, so we can whisper I love you! This is sure to become a preschool favorite, for bedtime and any time.
Target age: 3 to 6
Reviews:
★ "A sweet portrait of parental love, notable for its depiction of a two-mom family . . . Plenty of need for this warm hug of a book." -- Kirkus, starred review
"Manushkin's hopeful lines emphasize both a feeling of abundance and a connection to the natural world . . . Cozy illustrations lend a classic sensibility to this incidentally inclusive bedtime tale for the youngest readers." -- Publishers Weekly
"Alizadeh's pencil and digital illustrations are vivid and inviting . . . Manushkin's text imitates the nonsensical patter of a parent to a toddler . . . Alizadeh's loving illustrations of an interracial, two-mom family will fill a gap in most collections and circulate well in collections serving bikeable urban neighborhoods." -- School Library Journal
About the Contributors:
Fran Manushkin was born in Chicago, Illinois, in 1942. After a short stint as an elementary school teacher, she moved to New York City and began working in children's book publishing. She has written numerous picture books, including Baby, Come Out, Miriam's Cup, and The Tushy Book.
Kate Alizadeh has a bachelor's degree with honors in illustration from Falmouth University. She has illustrated two picture books in the UK, and this is her US debut. She lives in Wales with her wife and their pet cat.