---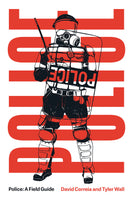 by David Correia and Tyler Wall
Verso Books
8/2/2022, paperback
SKU: 9781839765872
A radical guide to the language of policing
This field guide arms activists--and indeed anyone concerned about police abuse--with critical insights that ultimately redefine the very idea of policing. When we talk about police and police reform, we speak the language of police legitimation through euphemism. So state sexual assault becomes "body-cavity search," and ruthless beatings "non-compliance deterrence."
In entries such as "police dog," "stop and frisk," and "rough ride," the authors expose the way "copspeak" suppresses the true meaning and history of law enforcement. In field guide fashion, they reveal a world hidden in plain view. The book argues that a redefined language of policing might help us chart a future that's free.
Including explanations of newsmaking terms such as "deadname," "kettling," and "qualified immunity," and a foreword by leading justice advocate Craig Gilmore.
Reviews:
"One of the angriest and saddest indictments of American policing I have ever read. The exposure of 'copspeak' is masterly and the analysis of the relationships between law and order, racism and capitalism, are explained with surgical precision." --Clive Bloom, author of Riot City: Protest and Rebellion in the Capital
"Seeing through police bluewashing at every turn, Correia and Wall have put together a comprehensive, rigorous and highly useful guide to understanding 'copspeak.' Unpacking the structural violence and racism of the police, and their functional role in capitalism, as well as in the historical continuity of slavery, Police: A Field Guide is a resolutely practical guide to thinking of a world beyond the police. Of value to activists and theorists alike, this text is a careful analysis of core concepts in policing of use to everyone committed to ending racist state violence and the tyranny of cops everywhere." --Nina Power, author of One-Dimensional Woman
" Police: A Field Guide is a dictionary of liberation, an antidote to the 'copspeak' that's everywhere, even in our own heads. By dissecting and analyzing a vocabulary of power that has become dangerously ubiquitous, this book can help us dispel and loosen its grip." --Astra Taylor, author of The People's Platform: Taking Back Power and Culture in the Digital Age
About the Authors:
David Correia is an associate professor in the Department of American Studies at the University of New Mexico. He is the author of Properties of Violence: Law and Land Grant Struggle in Northern New Mexico.
Tyler Wall is an Assistant Professor in the Department of Sociology at the University of Tennessee.