---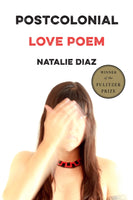 by Natalie Diaz
Graywolf Press
3/3/2020, paperback
SKU: 9781644450147
WINNER OF THE 2021 PULITZER PRIZE IN POETRY
FINALIST FOR THE 2020 NATIONAL BOOK AWARD FOR POETRY
Natalie Diaz's highly anticipated follow-up to When My Brother Was an Aztec, winner of an American Book Award
Postcolonial Love Poem is an anthem of desire against erasure. Natalie Diaz's brilliant second collection demands that every body carried in its pages--bodies of language, land, rivers, suffering brothers, enemies, and lovers--be touched and held as beloveds. Through these poems, the wounds inflicted by America onto an indigenous people are allowed to bloom pleasure and tenderness: "Let me call my anxiety, desire, then. / Let me call it, a garden." In this new lyrical landscape, the bodies of indigenous, Latinx, black, and brown women are simultaneously the body politic and the body ecstatic. In claiming this autonomy of desire, language is pushed to its dark edges, the astonishing dunefields and forests where pleasure and love are both grief and joy, violence and sensuality.
Diaz defies the conditions from which she writes, a nation whose creation predicated the diminishment and ultimate erasure of bodies like hers and the people she loves: "I am doing my best to not become a museum / of myself. I am doing my best to breathe in and out. // I am begging: Let me be lonely but not invisible." Postcolonial Love Poem unravels notions of American goodness and creates something more powerful than hope--in it, a future is built, future being a matrix of the choices we make now, and in these poems, Diaz chooses love.
Reviews:
"Diaz's collection is no doubt one of the most important poetry releases in years, one to applaud for its considerable demonstration of skill, its resistance to dominant perspectives and its light wrought of desire."--The New York Times Book Review
"With tenacious wit, ardor, and something I can only call magnificence, Diaz speaks of the consuming need we have for one another. This is a book for any time, but especially a book for this time. These days, and who knows for how long, we can only touch a trusted small number of people. Diaz brings depth and resonance to the fact that this has always been so. Be prepared to journey down a wild river." --Louise Erdrich
"The representation of violence against Native peoples is a driving engine of [ Postcolonial Love Poem]. Whether it be historical or present violence against the general Native population and culture, the specific violence levied at girls and women, the violence of the Christian religion, the cyclical violence the male body engages in, a violence -- sometimes loud cacophony, sometimes mute ghost -- saturates these pages. . . . In the very present absence of the Mojave language, Postcolonial Love Poem becomes a very present love poem to self and community, post colonialism." --NPR.org
About the Author:
Natalie Diaz is the author of the poetry collection When My Brother Was an Aztec. She has received many honors, including a MacArthur Fellowship, a USA Fellowship, and a Lannan Literary Fellowship. She teaches at Arizona State University.