---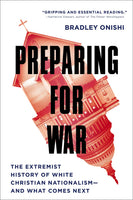 by Bradley Onishi
Broadleaf Books
1/3/2023, hardcover
SKU: 9781506482163
Watching the eerie footage of the January 6 insurrection, Bradley Onishi wondered: If I hadn't left evangelicalism, would I have been there?
The insurrection at the US Capitol on January 6, 2021, was not a blip or an aberration. It was the logical outcome of years of a White evangelical subculture's preparation for war. Religion scholar and former insider Bradley Onishi maps the origins of White Christian nationalism and traces its offshoots in Preparing for War.
Combining his own experiences in the youth groups and prayer meetings of the 1990s with an immersive look at the steady blending of White grievance politics with evangelicalism, Onishi crafts an engrossing account of the years-long campaign of White Christian nationalism that led to January 6. How did the rise of what Onishi calls the New Religious Right, between 1960 and 2015, give birth to violent White Christian nationalism during the Trump presidency and beyond? What propelled some of the most conservative religious communities in the country--communities of which Onishi was once a part--to ignite a cold civil war?
Through chapters on White supremacy and segregationist theologies, conspiracy theories, the Christian-school movement, purity culture, and the right-wing media ecosystem, Onishi pulls back the curtain on a subculture that birthed a movement and has taken a dangerous turn. In taut and unsparing prose, Onishi traces the migration of many White Christians to Idaho, Montana, and Wyoming in what is known as the American Redoubt. Learning the troubling history of the New Religious Right and the longings and logic of White Christian nationalism is deeply alarming. It is also critical for preserving the shape of our democracy for years to come.
Reviews:

"A rigorous and earnest grappling with the intersection between religion and politics." -- Publishers Weekly
"A clear-eyed, compelling study of the road to Jan. 6 and the possible future of the politics-versus-religion battle in the U.S." -- Kirkus Reviews, starred review
"In Preparing for War, Bradley Onishi traces the history of White Christian nationalism from the John Birch Society to the Big Lie and the January 6 terrorist assault on the U.S. Capitol--a narrative enlivened by the author's own intersections with the movement. This is an excellent and important book, both chilling and prophetic." -- Randall Balmer, historian and author of Bad Faith: Race and the Rise of the Religious Right
About the Author:

Dr. Bradley Onishi is a scholar of religion and cohost of the Straight White American Jesus podcast. His writing has been published in the New York Times, LA Review of Books, and Religion & Politics, among other outlets. He holds degrees from Azusa Pacific University, Oxford University, and L'institut catholique de Paris, and he received his PhD from the University of California at Santa Barbara. A TEDx speaker and the author, editor, or translator of four previous books, Onishi teaches at the University of San Francisco and lives in the Bay Area with his wife and daughter.