---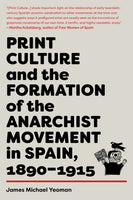 by James Michael Yeoman
AK Press
9/06/2022, paperback
SKU: 9781849354585
The origins of one the largest anarchist movements in history, told through its newspapers, pamphlets, books, and flyers.
Print Culture and the Formation of the Anarchist Movement in Spain, 1890-1915 analyzes the formation of a mass anarchist movement in Spain spanning the turn of the twentieth century. This movement organized the largest body of anarchists in world history: the anarcho-syndicalist National Confederation of Labour (CNT). Anarchist cultural practices became ingrained in localities across the whole of Spain, laying foundations which maintained the movement's popular support until the end of the Spanish Civil War in 1939.
This book shows that grassroots print culture was central to these developments: driving the development of ideology and strategy and providing an informal structure to a movement that shunned recognized leadership and bureaucracy. It offers a rich analysis of the cultural foundations of Spanish anarchism, while challenging claims that the movement was "exceptional" or "peculiar" in its formation, by situating it alongside other decentralized, bottom-up mobilizations across historical and contemporary contexts.
Reviews:

"Comparing Spanish and Russian movements, Emma Goldman identified organisation as the key to anarchist success in Spain. James Yeoman's meticulous, sophisticated study of print culture in the late-nineteenth and early-twentieth century reveals that the anarchist press was the linchpin, essential to subsequent rise of the CNT. Exploring anarchism from the bottom up, he introduces a concept of translocal communication to illuminate Spanish anarchism and reflect on the enduring lessons for grassroots activism." -- Ruth Kinna, author of The Government of No One and Great Anarchists
"A fascinating book, which interweaves the political, social, cultural and intellectual history of the Spanish anarchist movement--since, as Yeoman shows, print culture was integral to all these dimensions. This is an extensively researched and engagingly written study, which will satisfy newcomers to anarchism and existing experts." -- Constance Bantman, author of Jean Grave and the Networks of French Anarchism, 1854-1939 and contributor to The Slow Burning Fuse
"This rich history takes seriously the complexity and creativity of Spanish anarchism and, in the process, addresses the question of Spanish 'exceptionalism' in a totally new way. It sheds important light on the relationship of early twentieth-century Spanish anarcho-syndicalism to other movements at the time and also suggests ways it prefigured what are usually seen as the innovations of grassroots movements of our own time. A terrific and highly readable study." -- Martha Ackelsberg, author of Free Women of Spain
About the Author:

James Michael Yeoman is a researcher whose interests include the history of anarchism, Spanish and Latin American history and post-1945 radical social movements. He introduced and annotated Leopoldo Bonafulla's The July -Revolution: Barcelona 1909. Yeoman lives in Liverpool.