---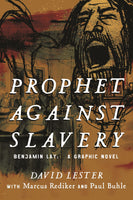 by David Lester, with Marcus Rediker and Paul Buhle
Beacon Press
11/2/2021, paperback
SKU: 9780807081792
The revolutionary life of an 18th-century dwarf activist who was among the first to fight against slavery and animal cruelty.
Prophet Against Slavery is an action-packed chronicle of the remarkable and radical Benjamin Lay, based on the award-winning biography by Marcus Rediker that sparked the Quaker community to re-embrace Lay after 280 years of disownment. Graphic novelist David Lester brings the full scope of Lay's activism and ideas to life.
Born in 1682 to a humble Quaker family in Essex, England, Lay was a forceful and prescient visionary. Understanding the fundamental evil that slavery represented, he would unflinchingly use guerrilla theatre tactics and direct action to shame slave owners and traders in his community. The prejudice that Lay suffered as a dwarf and a hunchback, as well as his devout faith, informed his passion for human and animal liberation. Exhibiting stamina, fortitude, and integrity in the face of the cruelties practiced against what he called his "fellow creatures," he was often a lonely voice that spoke truth to power.
Lester's beautiful imagery and storytelling, accompanied by afterwords from Rediker and Paul Buhle, capture the radicalism, the humor, and the humanity of this truly modern figure. A testament to the impact each of us can make, Prophet Against Slavery brings Lay's prophetic vision to a new generation of young activists who today echo his call of 300 years ago: "No justice, no peace!"
Reviews:
"The saga of Benjamin Lay is both unique and glorious. Historian Marcus Rediker and artist David Lester do a splendid job in bringing history to life."
--Kate Evans, author and artist of Red Rosa: A Graphic Biography of Rosa Luxemburg
"Lester's raw, expressive visual approach perfectly delivers. Prophet Against Slavery is a crucial account of abolitionism's religious framework, its courage and moral clarity often recast as sin or insanity, and the necessity of taking outside risks in pursuit of justice and equality." --Nate Powell, National Book Award-winning artist of Save It for Later and the March trilogy about US congressman John Lewis
About the Contributors:
David Lester is the co-creator of the graphic novels The Listener and the award-winning 1919: A Graphic History of the Winnipeg General Strike. His poster of anti-war protester Malachi Ritscher was exhibited at the Whitney Museum of American Art in New York.
Marcus Rediker is Distinguished Professor of Atlantic History at the University of Pittsburgh. He is the author of The Fearless Benjamin Lay, on which this book is based.
Paul Buhle, a retired senior lecturer at Brown University, is the authorized biographer of C. L. R. James. He has edited more than a dozen nonfiction graphic novels, including Ballad of an American: A Graphic Biography of Paul Robeson.