---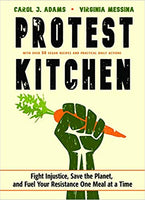 by Carol J. Adams and Virginia Messina
Conari Press
10/1/2018, hardcover
SKU: 9781573247436
Protest Kitchen is an empowering guide to the food and lifestyle choices anyone can make for positive change in the face of the profound challenges of our time. Our food choices have much more of an impact than most people imagine. They not only affect our personal health and the environment, but are also tied to issues of justice, misogyny, national security, and human rights. Protest Kitchen is the first book to explore the ways in which a more plant-based diet challenges regressive politics and fuels the resistance.
A provocative and practical resource for hope and healing, Protest Kitchen features over 50 vegan recipes (with alternatives for aspiring vegans) along with practical daily actions to make a difference with our diets.

Author:
Carol J. Adams is the author of the pioneering Sexual Politics of Meat, which the New York Times called a "vegan bible" and is now in a 25th anniversary edition. The book was named one of Ms. Readers' 100 Best Non-Fiction Books of All Time. Carol has also written pieces for sources as diverse as the New York Times, Washington Post, Ms. Magazine, and Christian Century.
Virginia Messina is a registered dietitian with a master's degree in public health nutrition from the University of Michigan. She is a longtime vegan who writes about vegetarian and vegan diets for the public and health professionals. Her articles have appeared in a variety of popular publications including Family Circle Magazine, Self Magazine, and the Encyclopedia Britannica.