---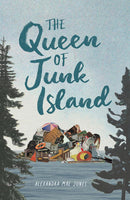 by Alexandra Mae Jones
Annick Press
5/3/2022
SKU: 9781773216348
From debut author Alexandra Mae Jones comes a compelling, nuanced exploration of bi identity and body image with a ghostly backdrop--perfect for fans of Nina Lacour. Still reeling from a recent trauma, sixteen-year-old Dell is relieved when her mom suggests a stay at the family cabin. But the much-needed escape quickly turns into a disaster. The lake and woods are awash in trash left by a previous tenant. And worse, Dell's mom has invited her boyfriend's daughter to stay with them. Confident, irreverent Ivy presses all of Dell's buttons--somehow making Dell's shame and self-consciousness feel even more acute. Yet Dell is drawn to Ivy in a way she doesn't fully understand. As Dell uncovers secrets in the wreckage of her family's past--secrets hinted at through troubling dreams and strange apparitions--Ivy leads her toward thrilling, if confusing, revelations about her sexuality and identity. Set during a humid summer in the mid-2000s, The Queen of Junk Island simmers with the intensity of a teenage girl navigating the suffocating expectations of everyone around her.
Reviews:
"Jones never shies away from brutally honest discussions of sexual topics that were even more taboo in the 2000s when the book is set, capturing in particular the toxicity of biphobia . . . Haunting, unusual, and real." -- Kirkus Reviews
"Jones's characters explore nuanced, painful dynamics as they work through different types of loss, mental health issues, and questions of sexuality." -- Booklist
"This book is a raw, poignant exploration of female teenage sexuality and how societal expectations conflate desire with shame." -- The Bulletin of the Center for Children's Books
"[T]his intensely personal and moving narrative adeptly captures the often nerve-wracking complexity of queer adolescence." -- Publishers Weekly
About the Author:
Alexandra Mae Jones is a queer writer based in Toronto. Her short fiction has been published in several literary magazines, and she is a freelance reporter for CTVNews.ca. She is the 2020 Prairie Fire Fiction Contest winner.