---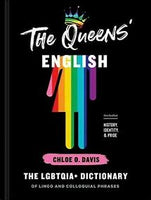 by Chloe O. Davis
Clarkson Potter Publishers
2/2/2021, hardcover
SKU: 9780593135006
A landmark reference guide to the LGBTQIA+ community's contributions to the English language--an intersectional, inclusive, playfully illustrated glossary featuring more than 800 terms and fabulous phrases created by and for queer culture. 
Do you know where yaaaas queen! comes from? Do you know the difference between a bear and a wolf? Do you know what all the letters in LGBTQIA+ stand for? The Queens' English is a comprehensive guide to modern gay slang, queer theory terms, and playful colloquialisms that define and celebrate LGBTQIA+ culture.
This modern dictionary provides an in-depth look at queer language, from terms influenced by celebrated lesbian poet Sappho and from New York's underground queer ball culture in the 1980s to today's celebration of RuPaul's Drag Race. 
The glossary of terms is supported by full-color illustrations and photography throughout, as well as real-life usage examples for those who don't quite know how to use kiki, polysexual, or transmasculine in a sentence. A series of educational lessons highlight key people and events that shaped queer language; readers will learn the linguistic importance of pronouns, gender identity, Stonewall, the Harlem Renaissance, and more. 
For every queen in your life--the men, women, gender non-conforming femmes, butches, daddies, and zaddies-- The Queens' English is at once an education and a celebration of queer history, identity, and the limitless imagination of the LGBTQIA+ community.
About the Author:
Chloe O. Davis is a debut author who works in the entertainment industry in New York. A graduate of Hampton University and Temple University, she has centered her creative platform on amplifying the narratives of Black culture and heightening the awareness of the LGBTQIA+ community. Davis's work as a dancer, actor, and creative has allowed her to travel to all fifty states and internationally where she has spent fifteen years researching, writing and creating The Queens' English: The Dictionary For LGBTQIA+ Lingo and Colloquial Phrases.