---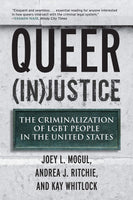 by Joey Mogul, Andrea Ritchie, and Kay Whitlock
Beacon Press

1/24/2012, paperback
SKU: 9780807051153
A groundbreaking work that turns a "queer eye" on the criminal legal system, Queer (In)Justice is a searing examination of queer experiences -- as suspects, defendants, prisoners, and survivors of crime. The authors unpack queer criminal archetypes -- like "gleeful gay killers," "lethal lesbians," "disease spreaders," and "deceptive gender benders" -- to illustrate the punishment of queer expression, regardless of whether a crime was ever committed. Tracing stories from the streets to the bench to behind prison bars, they prove that the policing of sex and gender both bolsters and reinforces racial and gender inequalities.
Reviews:
"Queer (In)justice is an incredibly eye-opening take on the complexity of factors, including race and class, that needs to be considered in a progressive strategy for obtaining justice...to miss out on this book would be to turn your back to reality." -- James Viloria, Gay Persons of Color
"Queer (In)justice is one of the most important books about the struggle for LGBT rights that we've seen in decades. It adds a critical point of discussion, advocating for working beyond the standard 'marriage and military service' framework and instead fighting the entire system of institutional wrongs historically perpetrated against all LGBTs." -- Daily Kos
About the Authors:
Joey L. Mogul is a partner at the People's Law Office in Chicago and director of the Civil Rights Clinic at DePaul University's College of Law. 
Andrea J. Ritchie is a police misconduct attorney and organizer in New York City. 
Kay Whitlock is a Montana-based organizer and writer whose work focuses on dismantling structural injustice in law enforcement and other public institutions.