---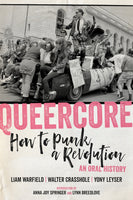 Edited by Liam Warfield, Walter Crasshole and Yony Leyser
PM Press
7/13/2021, paperback
SKU: 9781629637969
Queercore: How to Punk a Revolution: An Oral History is the very first comprehensive overview of a movement that defied both the music underground and the LGBT mainstream community.
Through exclusive interviews with protagonists like Bruce LaBruce, G.B. Jones, Jayne County, Kathleen Hanna of Bikini Kill and Le Tigre, film director and author John Waters, Lynn Breedlove of Tribe 8, Jon Ginoli of Pansy Division, and many more, alongside a treasure trove of never-before-seen photographs and reprinted zines from the time, Queercore traces the history of a scene originally "fabricated" in the bedrooms and coffee shops of Toronto and San Francisco by a few young, queer punks to its emergence as a relevant and real revolution. Queercore is a down-to-details firsthand account of the movement explored by the people that lived it—from punk's early queer elements, to the moment that Toronto kids decided they needed to create a scene that didn't exist, to Pansy Division's infiltration of the mainstream, and the emergence of riot grrrl—as well as the clothes, zines, art, film, and music that made this movement an exciting middle finger to complacent gay and straight society. Queercore will stand as both a testament to radically gay politics and culture and an important reference for those who wish to better understand this explosive movement.
Reviews:
"Queercore is the unrelenting polyrhythm of a culture, chanted in varied waves of sensation, by some of its most essential voices. Zigzagging through generations of nostalgia and controversy faster than their own power chords, this is not just a record of queercore (the movement), but a theoretical discussion about the intersectional ideology of 'Queer, ' as well as 'Punk' itself. Reading--not watching or listening to--this book gave me the absolutely necessary opportunity to reinvigorate my own punk, both as performance art and radical protest. This unflinching oral history of how a subculture begins and survives, tenaciously layered in the present, is a bridge over the gap, that I for one, have been waiting for." --JD Samson, musician, producer, songwriter and DJ (Le Tigre/MEN)
"Finally, a book that centers on the wild, innovative, and fearless contributions queers made to punk rock, creating a punker-than-punk subculture beneath the subculture, Queercore. Gossipy and inspiring, a historical document and a call to arms during a time when the entire planet could use a dose of queer, creative rage." --Michelle Tea, author of Valencia
"This is a sensational set of oral histories of queer punk that includes everyone from Jayne County to Eileen Myles, from Vaginal Davis to Lynn Breedlove. The whole book works like a giant jigsaw puzzle that never offers a final or complete picture but at least scatters the pieces around to allow the reader to assemble some truly exciting scenarios. This is very possibly the best and only way that subcultural histories should emerge--namely as incomplete and incoherent, as a magnificent poly vocal roar, as sound, fury, rebel yells and screams. This does not just capture queer punk, it is queer punk." --Jack Halberstam, author of The Queer Art of Failure and In A Queer Time and Place: Transgender Bodies, Subcultural Lives
About the Contributors::
Liam Warfield is a writer, editor, and educator living in Chicago.
Walter Crasshole is a journalist and editor in Berlin, for Exberliner.
Yony Leyser is the writer and director of three award-winning feature films.
Lynn Breedlove is a writer, performer, musician, entrepreneur, and community activist born and raised in the SF Bay Area.
Anna Joy Springer is the author of The Vicious Red Relic, Love, The Birdwisher, and A Murder Mystery for Very Old Young Adults.