---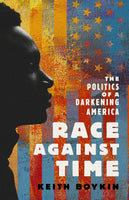 by Keith Boykin
Bold Type Books
9/14/2021, hardcover
SKU: 9781645037262
A Cold Civil War has engulfed the nation.
After a deadly pandemic, shocking incidents of police brutality, a racial justice crisis, and the fall of a dangerous demagogue, America remains more divided than at any time in decades. At the heart of this national crisis is the fear of a darkening America--a country in which there is no longer a predominant white majority.
As the Republican Party has lost the popular vote in seven of the last eight presidential elections, its leaders have incited white Americans in a last-ditch race against time to stop the advance of a new, multiracial emerging majority. Keith Boykin, long time political commentator, has watched this white resentment consume the GOP over the course of a life in politics, activism, and journalism. He has also observed the divisions among Democrats, as white progressives have postponed demands for full racial equity, while Black voters have often been too forgiving of party leaders who have failed to deliver. America can no longer avoid its long overdue reckoning with the past, Boykin argues. With the familiarity of personal experience and the acuity of historical insight, Boykin urges us to fight racism, sexism, xenophobia, and homophobia, and save the union, not just by making Black lives matter, but by making Black lives equal.
Reviews:
"Race Against Time is Keith Boykin's best book yet in a long list of books and anthologies that have helped define what cultural criticism is. This book is also an account of what it means to be overlooked in a capitalist landscape that denies the existence and contribution of black queer citizens. What floors me is that Boykin's genius--from all the political and racial history from Reconstruction onward, to his well-wrought recounting of the antics of US presidents from Reagan to Trump--still allows him to remain a man of hope and a writer that affirms the spirit in essays that speak to us as a comforting brother would." -- Jericho Brown, author of The Tadition
"Peep the bold title of Boykin's new book -- Race Against Time: The Politics of a Darkening America -- the title says it all. The book doesn't shy away from the statistical, in-your-face-facts, that America is changing in a way that's making a lot of people uncomfortable about who they are...a deeply troubling and deliberately provocative book. He understands that we must raise essential questions about our path forward."-- Los Angeles Sentinel
About the Author:
Keith Boykin is a CNN political commentator, New York Times best-selling author, and a former White House aide to President Bill Clinton. Boykin teaches at the Institute for Research in African-American Studies at Columbia University in New York and previously taught at American University in Washington, D.C. He is a co-founder and first board president of the National Black Justice Coalition. He was a co-host of the BET Networks talk show My Two Cents, starred on the Showtime reality television series American Candidate, was an associate producer of the film Dirty Laundry, and he has appeared on many other TV shows, including BET's Being Mary Jane. A graduate of Dartmouth College and Harvard Law School, Boykin is a Lambda Literary Award-winning author of four books. He lives in New York City.