---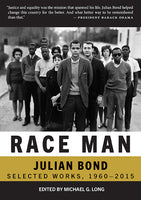 by Julian Bond, edited by Michael G. Long
City Lights Books
2/11/2020, paperback
SKU: 9780872867949
An inspiring, historic collection of writings from one of America's most important civil rights leaders.
No one in the United States did more to advance the legacy of Martin Luther King Jr. than Julian Bond. Race Man--a collection of his speeches, articles, interviews, and letters--constitutes an unrivaled history of the life and times of one of America's most trusted freedom fighters, offering unfiltered access to his prophetic voice on a wide variety of social issues, including police brutality, abortion, and same-sex marriage.
A man who broke race barriers and set precedents throughout his life in politics; co-founder of the Southern Poverty Law Center and long-time chair of the NAACP; Julian Bond was a leader and a visionary who built bridges between the black civil rights movement and other freedom movements--especially for LGBTQ and women's rights. As we enter the third decade of the twenty-first century, there is no better time to return to Bond's works and words, many of them published here for the first time.
Reviews:
"Endlessly grateful for this collection of work that shows the expansive nature of Julian Bond's ideas of black liberation, and how those ideas are woven into the fabric of both resistance and uplift. Race Man is the map of a journey that was not only struggle and not only triumph."--Hanif Abdurraqib, author of They Can't Kill Us Until They Kill Us: Essays
"Race Man is the essential collection of Julian Bond's wisdom--and required reading for the organizers and leaders who follow in his footsteps today."--Marian Wright Edelman, President Emerita, Children's Defense Fund