---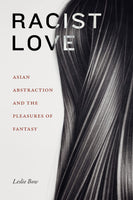 by Leslie Bow
Duke University Press
4/22/2022, paperback
SKU: 9781478017851
In Racist Love Leslie Bow traces the ways in which Asian Americans become objects of anxiety and desire. Conceptualizing these feelings as "racist love," she explores how race is abstracted and then projected onto Asianized objects. Bow shows how anthropomorphic objects and images such as cartoon animals in children's books, home décor and cute tchotchkes, contemporary visual art, and artificially intelligent robots function as repositories of seemingly positive feelings and attachment to Asianness. At the same time, Bow demonstrates that these Asianized proxies reveal how fetishistic attraction and pleasure serve as a source of anti-Asian bias and violence. By outlining how attraction to popular representations of Asianness cloaks racial resentment and fears of globalization, Bow provides a new means of understanding the ambivalence surrounding Asians in the United States while offering a theory of the psychological, affective, and symbolic dynamics of racist love in contemporary America.
Reviews:
"Thought-provoking and illuminating. Professor Bow's analysis is both broad ranging and a deep dive into culture, history, psychology, and much more. Her work provides context, vocabulary, and insight--a powerful framework for understanding."--Charles Yu, author of Interior Chinatown
"This book comes at a timely juncture--the latest reckoning of anti-Asian violence--and its analysis of the critical interplay of racial affects is deeply welcome. But Leslie Bow also asks much more of the reader in an incisive treatment that is vast in scope yet consistently uncompromising. If it has been possible until now to foster a sense of the inhuman contingencies of Asianness, Racist Love finally disabuses us of intrahuman fantasies of racial feeling and shows us how objects matter."--Mel Y. Chen, author of Animacies: Biopolitics, Racial Mattering, and Queer Affect
About the Author:
Leslie Bow is Vilas Distinguished Achievement Professor of English and Asian American Studies and Dorothy Draheim Professor of English at the University of Wisconsin-Madison and author of Partly Colored: Asian Americans and Racial Anomaly in the Segregated South and Betrayal and Other Acts of Subversion: Feminism, Sexual Politics, Asian American Women's Literature.