---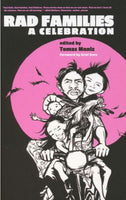 Edited by Tomas Moniz
PM Press
11/10/2016, paperback
SKU: 9781629632308
Rad Families: A Celebration honors the messy, the painful, the playful, the beautiful, the myriad ways we create families. This is not an anthology of experts, or how-to articles on perfect parenting; it often doesn't even try to provide answers. Instead, the writers strive to be honest and vulnerable in sharing their stories and experiences, their failures and their regrets.
Gathering parents and writers from diverse communities, it explores the process of getting pregnant from trans birth to adoption, grapples with issues of racism and police brutality, probes raising feminists and feminist parenting. It plumbs the depths of empty nesting and letting go. Some contributors are recognizable authors and activists but most are everyday parents working and loving and trying to build a better world one diaper change at a time. It's a book that reminds us all that we are not alone, that community can help us get through the difficulties, can, in fact, make us better people.
With a forward by Ariel Gore.
Reviews:
"I love this book! Wonderfully written, tenderly honest, unabashedly hilarious, deeply important stories from the messy beautiful world of real life parenting. Thank goodness it exists." --Michelle Tea, author, How to Grow Up
"Want a thriving family raising magical kids, building beloved community, and rooted in a vision of liberation that frees us all of white supremacist hetero-patriarchy? Read this book." --Chris Crass, author, Towards Collective Liberation
About the Contributors:
Tomas Moniz is the founder and editor of the award winning zine Rad Dad. He teaches basic skills classes and creative writing at Berkeley City College. His latest novella is Bellies and Buffalos.
Ariel Gore is an award-winning editor, memoirist, journalist, fiction writer, and former publisher of Hip Mama.