---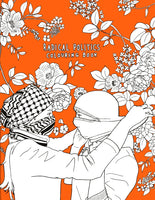 illustrated by Zola
Kersplebedeb
2022, spiral-bound
SKU: 9781989701201
The Radical Politics Coloring Book is a collection of illustrations and games for radical social change. Mixing entertainment, craft and education, it's a great way to bring politics to family friendly activities for all ages. The 50 pages of activities and illustrations touch a diversity of subjects such as anticapitalism, Indigenous resistance and anticolonialism, antiracism and antifascism, feminisms, migrant justice and mutual aid.
Be sure to check out the other titles from our friends at Kersplebedeb.
About the Artist:
Zola is a queer, Settler (french-canadian descent) street artist working in an anti-oppressive approach. Her political upbringing was through the Quebec student movement and she is involved in different affinity groups and collectives addressing Indigenous solidarity and art and anarchism. An ongoing project of hers focuses on the iconic character of the masked protester as a romantic allegory for street politics. She is concerned with representing the diversity of folks who engage in this radical tactic and shifting the white male stereotype of the frontlines.