---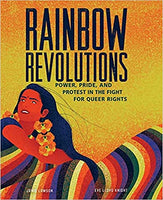 by Jamie Lawson and illustrated by Eve Lloyd Knight
Crocodile Books
5/4/2020, hardcover
SKU: 9781623719524
A BEAUTIFULLY ILLUSTRATED BOOK ABOUT THE FIGHT FOR QUEER RIGHTS 
Around one o'clock in the morning on June 28, 1969, police raided the Stonewall Inn, a gay bar in New York, sparking days of intense rioting. What happened at Stonewall sent shockwaves around the world, and became a defining moment for the LGBTQ+ community.
From the impassioned speeches of bold activists Karl Ulrichs and Audre Lorde to the birth of Pride and queer pop culture, Rainbow Revolutions charts the dramatic rise of the LGBTQ+ rights movement, and celebrates the courageous individuals who stood up and demanded recognition. With bold and beautiful illustrations by pop artist Eve Lloyd Knight.
Target age: 10-15
Reviews:
"This book's subtitle sums up the content neatly. To provide context for queer rights today, Lawson traces the history of LGBTQ oppression and resistance, from Victorian-era Germany to the Holocaust to Stonewall and beyond. Topics covered include the AIDS crisis and ACT UP, the New York ballroom scene, Pride celebrations, trans rights, marriage and family equality, queer representation in sports and popular culture, and more. This accessible account offers a wide-ranging discussion of the evolution of LBGTQ activism. Knight's stylized and stylish illustrations introduce each four-page section. Back matter includes a timeline highlighting significant world events from 1867 to 2018, a glossary, and an index." -The Horn Book
About the Authors:
Jamie Lawson is a queer anthropologist working at the University of Bristol. His research centers on human sexuality, with a particular focus on queer identities and experience. He is an active and proud member of the LGBTQ+ community and has a history of activism and engagement.
Eve Lloyd Knight is an illustrator, designer and, art director whose work has been featured in the New York Times, Grazia, Stylist, and many others. Her previous work, Rebel Voice: The Global Fight for Women's Equality and the Right to Vote (Interlink 2018) received a starred review in Publishers Weekly. Eve produces bold and topical illustrations, with a specific focus on feminist and queer rights issues.