---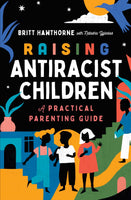 by Britt Hawthorne with Tasha Yglesias
Simon Element
06/07/2022, paperback
SKU: 9781982185428
A must-have guide to raising inclusive, antiracist children from educator and advocate, Britt Hawthorne.
Raising antiracist children is a noble goal for any parent, caregiver, or educator, but it can be hard to know where to start. Let Britt Hawthorne--a nationally recognized teacher and advocate--be your guide. Raising Antiracist Children acts as an interactive guide for strategically incorporating the tools of inclusivity into everyday life and parenting. Hawthorne breaks down antiracist parenting into four comprehensive sections:
- Healthy bodies -- Establishing a safe and body-positive home environment to combat stereotypes and create boundaries.
- Radical minds -- Encouraging children to be agents of change, accompanied by scripts for teaching advocacy, giving and taking productive feedback, and becoming a coconspirator for change.
- Conscious shopping -- Raising awareness of how local shopping can empower or hinder a community's ability to thrive, and teaching readers of all ages how to create shopping habits that support their values.
- Thriving communities -- Acknowledging the personal power we have to shape our schools, towns, and worlds, accompanied by exercises for instigating change.
Full of questionnaires, stories, activities, tips, and tools, Raising Antiracist Children is a must-have, practical guide essential for parents and caregivers everywhere.

Reviews:

"Hawthorne has a gift for making complex, sensitive topics accessible, and her tone is both inspiring and comforting... Overall, the creativity, criticality, and compassion make this book is a must-read for parents and caregivers. A stunningly comprehensive, thoughtful, and practical guide to anti-racist parenting." - Kirkus 
"A must-read that covers an essential topic well and is jam-packed with ideas to implement." - Library Journal
"The title Raising Antiracist Children doesn't begin to cover the scope of what's actually in this outstanding book. Full of anecdotes, tips, tools, activities, and insights from a range of contributors, Britt Hawthorne and Natasha Yglesias, have created and curated a spectacular resource for anyone who want to get smarter about intentionally creating a more just and sustainable world." - Debby Irving, author of Waking Up White, and Finding Myself in the Story of Race
About the Contributors:
Britt Hawthorne (she/her) is a Black biracial momma, teacher, author, and anti-bias and antiracist facilitator. Together with her beloved partner, they are raising their children to become empathic, critical thinkers, embracing justice, and activism. To learn more, visit BrittHawthorne.com.
Tasha Yglesias is a writer and editor based in Northern California. She's a fiction graduate of the Bennington Writing Seminars, and a submissions reader for several literary magazines.