---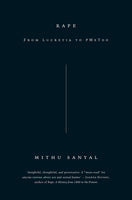 by Mithu Sanyal
Verso
5/14/2019, hardcover
SKU: 9781786637505
Originally published in Germany by Editions Nautilus as Vergewaltigung: Aspekte eines Verbrechens, 2016.
"An essential book for our times by a writer at the height of her powers. Gripping, informed and accessible, this will be an instant feminist classic."
"This is a book for today. Mithu Sanyal is insightful, thoughtful, and provocative. She encourages us to think about sexual violence in new ways and, most importantly, has challenging things to suggest about the way we should deal with rapists. A 'must read' for anyone curious about sex and sexual harms."
"The shockingly mundane debate over #MeToo has met its match in Mithu Sanyal. In her elegant, crisply written book, she peeks into the dark crannies we want to avoid. Joining her on this journey is the only way to understand the origins and context of the current problem."


"If our culture is going to change, we need books like Rape. Mithu Sanyal is able to see past salacious scandal, simplified narratives of who rapes and why, and the usual carceral feminist response to sexual harm. As vexing as it is thoughtful, Sanyal produces original thought on a subject that is pontificated over more often than understood. It feels instantly essential."

About the Author:
Mithu Sanyal is an award-winning broadcaster, academic and author. Her first book, Vulva, was translated into five languages