---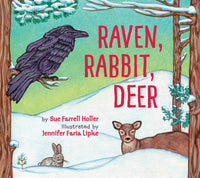 by Sue Farrell Holler, Illustrated by Jennifer Faria Lipke
Pajama Press
11/24/2020, hardcover
SKU: 9781772781366
In an intergenerational winter's story full of quiet wonder, a little boy takes his grandfather for a walk down a forest trail.
The boy shows Grandpa how to jump in the snow and how to make it splash into the creek. Grandpa shows the boy rabbit tracks and deer hiding among the trees. They greet their animal neighbors by name: Raven, Rabbit, Deer, Sparrow. 
In Raven, Rabbit, Deer, Governor General's Award-nominated author Sue Farrell Holler casts a spell of simple wonder as small child earnestly sets out to take care of his grandfather for the day. Grandpa wisely gratifies this sweet self-importance while passing on important lessons: how to greet a raven...how to know a deer's tracks...how to be family. Illustrator Jennifer Faria creates illustrations so cozy they make the winter's day feel warm.
Target age: 4 to 7
Reviews:
"This sweetly unassuming picture book is simultaneously a small wintertime adventure, a story of a loving intergenerational friendship, and an animal-identification book incorporating both English and Ojibwemowin vocabulary....Acrylic and colored-pencil illustrations vividly portray the snowy landscape as well as the boy and grandfather's home...Endpapers helpfully label the three animals with their English and Ojibwemowin names; the Ojibwemowin names are also spelled phonetically."--The Horn Book Magazine
"Though Raven, Rabbit, Deer is culturally informative with its inclusion of Ojibwemowin, author Sue Farrell Holler has not created it as a picture book of vocabulary as much as a story of a touching inter-generational relationship....Jennifer Faria has given Raven, Rabbit, Deer a boldness of colour and shape but with an understated edge that complements Sue Farrell Holler's story and intensifies it....Sue Farrell Holler and Jennifer Faria have let us enjoy an outing with a grandfather and his grandson and feel the warmth of that harmonious connection between people and with place."--CanLit for LittleCanadians
About the Contributors:
Sue Farrell Holler is the Governor General's Award-nominated author of the YA novel Cold White Sun as well as the middle-grade novel Lacey and the African Grandmothers and several picture books. Sue grew up on Cape Breton Island, Nova Scotia, where she wrote avidly to more than a hundred pen pals across North America. She later channelled her passion for writing into journalism studies at the University of King's College in Halifax. Sue has lived in the Northwest Territories and today resides in Grande Prairie, Alberta.
Jennifer Faria is an illustrator, painter, and graphic designer who studied at Central Technical School and George Brown College in Toronto. Her works can be found in the collections of celebrities, politicians, and especially parents, as one of her specialties is portraits of babies and small children. She lives in Burlington, Ontario with her husband and three children. While illustrating the grandfather in Raven, Rabbit, Deer, Jennifer drew inspiration from her maternal great-uncle, of whom she has warm memories. Similar to the boy in the story, Raven, Rabbit, Deer has been a walk of discovery for Jennifer as she learns more about her cultural heritage as a member of the Chippewas of Rama First Nation.